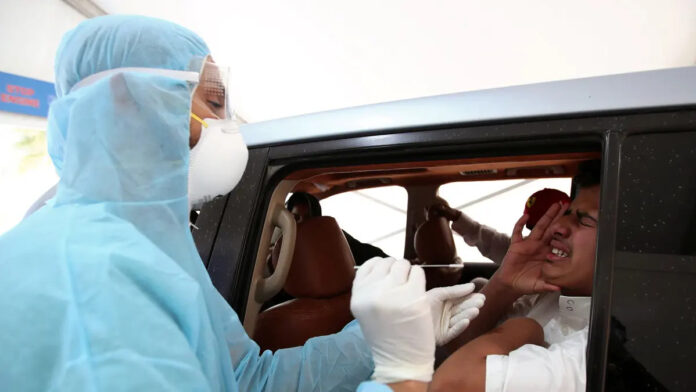 The Ministry of Health, Bahrain: The National Medical Taskforce stated that drive-through testing and vaccination for coronavirus is to be stopped from December 4, 2022. All the testing will only be available at the primary listed health care centres.
The ministry of health made it clear that the drive-through testing and vaccinations in 'Sitra Mall' will not be available from December 4. 
National Medical Taskforce further conveyed that all the COVID-19 testing and treatment will be centralized and only administrated at the 'Sehati' building at the Salmaniya Medical Complex.  
The Taskforce also made it clear that the previous make-shift facility operating at the Bahrain International Hospital would not be accessible for the residents. 
In addition, the ministry of health and the national medical Taskforce took a combined decision in which the authorities said that "the statistics and number about the daily cases or treatments will not be published in daily reports newspapers".  
Head of the National Medical Taskforce and Lieutenant General Dr Shaikh Mohamed bin Abdulla Al Khalifa stated that the coronavirus concern would be tackled continuously by the government of Bahrain.
The officials from the health sector will keep looking for advanced technological developments around the globe to fight the deadly virus. 
He further stressed that the health ministry is open to use and welcomes new medical tools and epidemiological monitoring equipment. 
Moreover, Lt Gen Abdulla Al Khalifa noted that the decision has been made by closely following up on the statistics and latest numbers coming from the healthcare centres and hospitalization ratios of Covid-19 Patients in the country. 
He ensured the residents that the decided amendments were the move, proving the testament to the Kingdom's relentless efforts in successfully combating and beating the worldwide pandemic.
Abdulla Al Khalifa expressed his deep gratitude towards the efforts of the healthcare centres and hospitals of the Kingdom of Bahrain, along with all the health workers who have made it possible to fight the pandemic. 
He believed their efforts made it a global example and led to its adoption by other nations.
Recently the Kingdom of Bahrain has also introduced covid 19 booster vaccination shot 'Pfizer BioNTech' for the nation's residents. They made the booster shot available in the primary health centres in Bahrain from November 29. 
The Health Ministry further stated that the residents who wish to get their booster shot could head straight to the centre without pre-reservation and process.