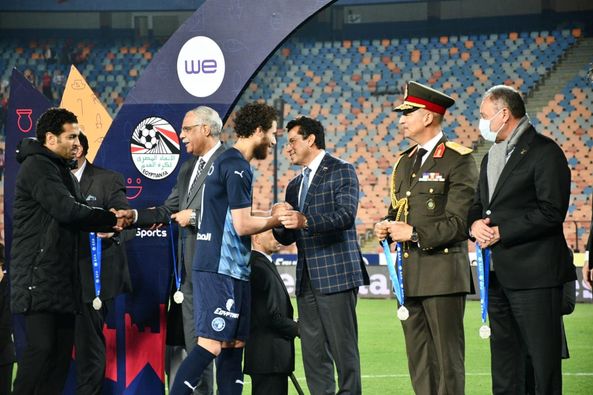 Middle East, Egypt: The Minister of Youth and Sports, Egypt, Dr Ashraf Sobhy, has recently witnessed the distribution ceremony of the Egyptian Cup to Al Ahly Football Club yesterday, April 10, 2023. The medals and awards were presented to the players following their exceptional performances during the recently held football competitions in the country.
According to the shared updates, the Minister of Youth and Sports, Ashraf Sobhy took to its official social media to share the results from the handing-over ceremony. The update further noted, "The Minister of Sport witnesses the ceremony of handing over the Egyptian Cup to Al Ahly Club Football Club."
The finals of the Egypt Cup were played between Al Ahly Club and Pyramids FC at the Cairo International Stadium. In the end, AL Ahly FC defeated Pyramids FC by the scoreline of 2-1 after the goals scored by the striker Kahraba during the 74th minute of the match and the other goal came by the mid-fielder Hamdi Fatih during the 105th minute.   
On the other hand, for Pyramids FC, mid-fielder Walid El Karti was a lone scorer who found the net in the 72nd minute of the game in the second half. 
Furthermore, the match was attended by Captain Mahmoud Al-Khatib, President of Al-Ahly Club. He was also accompanied by Engineer Mamdouh Eid, Executive President of Pyramids Club, and the Egyptian Football Federation President, Jamal Allam.
In addition, during the match, Ahmed Diab, President of the Professional Clubs Association, and Al-Ahly Farouk, Vice President, were also present. 
As per the reports, on his part, during the handing over ceremony, Dr Ashraf Sobhy, Minister of Youth and Sports, congratulated Al Ahly players after winning the trophy for the 38th time and praised the performance of the players of both teams during the match.
He further extended his remarks and noted that the Ministry of Youth and Sports is always keen to prepare the right atmosphere for various local, continental and international sporting competitions in Egypt.
Notably, the Minister of Sports, Sobhy, also praised the sportsmanship among the players during the match Omar, which is what the Egyptian state seeks in order to develop the Egyptian football system and broadcast sportsmanship, especially in the light of the comprehensive development process experienced by the sporting system that everyone should support to help build it.