Bahrain: In the context of the continuation of efforts undertaken by the Kingdom of Bahrain in the field of providing the best necessary health, preventive and therapeutic care services to the residents of the correctional and rehabilitation centres, His Excellency the team, Dr Sheikh Mohammed bin Abdullah Al Khalifa, Chairman of the Supreme Council of Health, in the presence of Dr Jal Yala, the daughter of Mr Jawad Hassan, the Minister of Health, opening this morning Medical clinic for the sake of providing healthcare services to the residents of rehabilitation and rehabilitation centres.
The opening of the medical clinic is subject to government hospitals, which offer integrated health services in the framework of continuing to provide comprehensive health care around the clock and at the highest levels of quality and efficiency to the residents, ensuring the preservation of their health and public safety, in accordance with the Anon of the Reform and Rehabilitation Foundation and its executive mandate.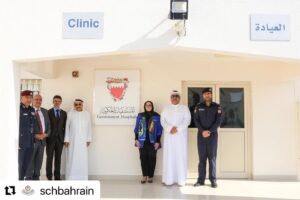 Government hospitals will work to provide the best health services according to international standards; as the Executive Chairman of Government Hospitals, Dr Ahmed Mohammed Al-Ansari, praised the services provided by the Ministry of Interior, noting that this type of shift is in progress Yam Services will ensure health service in all medical specialities in cooperation With primary care centres and mental health services.
During the opening, the inspection of the health facilities belonging to the clinic was done, and the delegation also discussed a number of procedures related to the transfer of health and treatment services to the clinic of the reform centre and the qualification of the residents and the expatriates.
These steps come in the implementation of the insights and directions aimed at unifying joint efforts and pursuits between the Supreme Council of Health, the Ministry of Interior, the Ministry of Health, government hospitals and primary healthcare centres to achieve the desired goals and objectives and preserve the country's gains. This is by providing all means of high-quality healthcare.
The Kingdom of Bahrain has implemented advanced centres for a number of plans, programmes and projects aimed at ensuring the rights of prisoners and prisoners and access to all health and social services alongside safety standards applied by international and global standards, embodiments the extent of Commitment to the safety of prisoners in light of the Kingdom's approach and its initiatives to strengthen the pillars of the state of institutions And the law and the principles of human rights.