Bahrain: D. Al-Hajri opens the workshop on the One Health Approach: National Bridges Between International Health Regulations and the Path of Veterinary Services Performance.
Within the framework of implementing joint programs with the WHO and supporting initiatives that would promote the health of citizens and residents and in coordination with the World Animal Health Organization, the Ministry of Health, in cooperation with the Supreme Council of Health, Livestock in the Ministry of Municipal Affairs and WA For Agriculture; Implementing the Unified Health Approach Workshop: National Bridges Between Health Regulations International, Veterinary Services Performance Course, to be held in the Kingdom of Bahrain from 4 – 6 October 2022.
Her Excellency Dr Maryam Al-Hajri, Assistant Agent for Public Health in the Ministry of Health, has opened a workshop in a word, during which she conveyed the greetings of her Excellency Dr Jalila, the daughter of Al-Sayed Jawad Hassan, the Minister of Health, and hopes that the works of this workshop will be successful and achieve its stated goals, the effort is appreciated.
This workshop is conducted by the stakeholders and organizers and valued by the achievements achieved Competently and efficiently; looking forward to continuing those achievements and successes.
Dr. Hajri explained that this workshop, which is being held for the first time in the region and lasts for three days, was co-ordinated and joint cooperation between the Ministry of Health and the Supreme Council for Health and Animal Affairs of the Ministry of Municipal Affairs, Agriculture and the World Health Organization, a sign of NA This workshop was attended by 40 participants, mainly aimed at being accessible.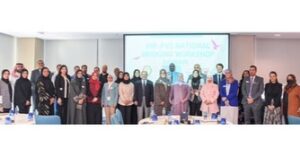 The opportunity to review the current state of cooperation between human and animal health services, as well as the identification of gaps in key technical areas for the management of natural, casual or deliberate occurrences of animal diseases, as well as to develop a common pathway and a map of corrective measures Fruits of strategy to improve coordination.
Al-Hajri thanked and appreciated all the attendees and participants for meeting the invitation and to all those who contributed to the success of this event, and she also extended her sincere thanks and appreciation to Dr Tasnim Atatra, Representative of the WHO Office in the Kingdom of Bahrain, and to Dr. Jamila Salma, Chairman of the Supreme Council for Health, Livestock Antibiotics Committee To the Ministry of Municipal Affairs and Agriculture, as well as to the World Organization for Animal Health and all those preparing and organizing, wishing this workshop a success and coming out with effective recommendations and achieving the desired goals.