Turkey: Turkish police have arrested the famous singer Gulsen for questioning on charges of "inciting people to hatred and enmity" after she made a comment about the "Imam Hatip" religious schools.
Turkish media reported that a judge had ordered the singer to be imprisoned to be investigated over statements she made on stage last April about the "Imam Hatip" schools that prepare children to become preachers.
A clip of these comments was widely shared by social media users in Turkey, which sparked widespread anger.
In her controversial comment, Gulsen told a person on stage that her "perversion" was due to her upbringing in one of the Imam Hatip schools.
Gulshan said on Twitter that she was joking with her colleagues during the show and apologized to anyone who felt offended, adding that some of them used her words to polarize the community.
---
---
Turkish media reported that the Istanbul Public Prosecutor's Office had launched an investigation and that the Ministry of Education had condemned the comments and had begun its own legal proceedings.
There are branches of Imam Hatip schools in all Turkish cities and where thousands of students study, and there are 13 international schools that follow in Turkey that teach their curricula to students coming from outside the country, and their curricula are currently taught in 54 schools in 22 countries around the world.
Last time she was criticized due to the conservative elements of Turkish society over her clothing and support for LGBT rights.
Harun Tekin, vocalist for popular rock band Mor ve Otesi, said a female artist was arrested "for not dressing and talking as they [the government] imposed".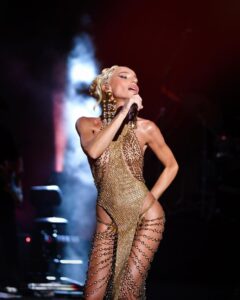 Lawyer Feyza Altun said the decision has "no legal reason" and argued that Gulsen was arrested due to her stage outfits, beliefs, "defiant attitude", and support for LGBT people.