Jordan: Queen Rania Al Abdullah revealed the wedding date of Prince Al Hussein bin Abdullah II and his fiancée, Rajwa bint Khalid Al Seif.
During her meeting, last Monday with members of the "Youth 42" Foundation for civil society in the Madaba governorate, south of the capital, Amman, the Queen spontaneously welcomed "those who want to marry during the summer of next year with Hussein."
The Royal Hashemite Court is pleased to announce the engagement of His Royal Highness Crown Prince Al Hussein bin Abdullah II to Ms Rajwa Khaled bin Musaed bin Saif bin Abdulaziz Al Saif, and extends its sincere congratulations on this occasion pic.twitter.com/LRIq61PtRB

— RHC (@RHCJO) August 17, 2022
It is noteworthy that on August 17 last, the Royal Hashemite Court announced Prince Hussein's sermon on Rajwa Al Seif.
Queen Rania celebrated the news of the engagement with an influential post on her official Instagram page, in which she congratulated her eldest son and bride and said that she did not realize that she could carry so much joy in her heart.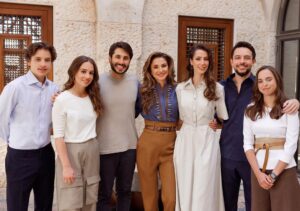 In another publication, Queen Rania welcomed her son's fiancée into the family, describing her as her third daughter, and attached to the publication a photo of her and her future daughter-in-law.
Finally, on the occasion of her birthday, Queen Rania published a new photo on Instagram, accompanied by Prince Hussein, his fiancée, Rajwa Al Saif, Prince Hashem, Princess Salma, Princess Iman and her fiancé Jamil Alexander Termeuts, and commented, "I am happy with you. There is nothing sweeter than a birthday with you around me."