The "Trash Tag" volunteer group celebrated the anniversary of World Cleaning Day today, recalling more than 100 clean-up operations that were carried out and collecting about 4,500 garbage bags from Kuwait's beaches, deserts, islands and parks over the past three years.
The director and founder of the American group, Karina Masera, who came to work as a teacher in Kuwait 7 years ago and then established her own business, explained that in April 2019 she founded an ambitious small group of friends, who numbered no more than 10 people, and began volunteering to clean beaches, whenever they had the opportunity.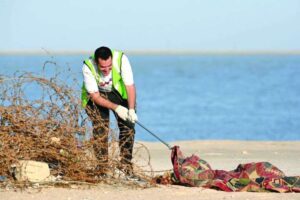 She said in a statement to "media", "The number of volunteers in (Trash Tag) has reached about 600 volunteers from citizens and residents," noting that the Kuwait Foundation for the Advancement of Sciences is sponsoring some of the initiatives undertaken by the group.
She stated that the group is also working to educate people about the dangers of waste, by holding workshops in schools, colleges and universities, pointing out that through their initiative, the "My Mai" project, they were able to distribute about 600 water filters to the needy, which sings them from buying plastic water bottles, which saved more than 2 million. A plastic package can be a waste.