Turkey, Istanbul: A sorrowful incident of Terror attack occurred on the 'Taksim Square Area streets' on Sunday, which claimed the lives of 6 civilians and left over 80 wounded. The prime minister of Kurdistan, Iraq, Masrour Barzani, expressed his solidarity about the cowardly act.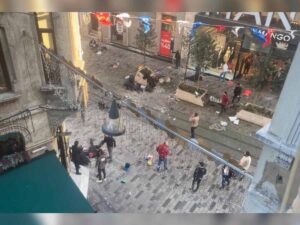 According to his official social media update, he fiercely criticized the miserable event, which reads as follows, "I strongly condemn the cowardly attack in Istanbul. My thoughts are with the government & people of Turkey, and the victims and their families".
I strongly condemn the cowardly attack in Istanbul today.

My thoughts are with the government and people of Turkey, and the victims and their families.

— Masrour Barzani (@masrourbarzani) November 13, 2022
The incident was allegedly carried out by a woman who has now been arrested, according to the reports. PM Barzani expressed his condolences and compassion to the victim's families and the Turkish government.
Furthermore, as per the sources, The accused woman sat on the bench for nearly 40-45 minutes before carrying out the attack and left a bag there just a few minutes before the explosion.
After the devastating blast, the families of the dead and wounded rushed to the spot to look for their loved ones.
Meanwhile, those who lost their loved ones or had witnessed the incident went into shock and called the incident as the darkest in the history of Istanbul.
The fear and terror could be easily felt in the country's air after the attack among the people. The people who witnessed the bombard from a distance expressed their feelings as highly threatening. On the other hand, the rescued and saved were calling themselves lucky to get another day in the life.
Moreover, the reports stated that the Interior Ministry of Turkey called this act an attack from a Terrorist Organization which wanted to separate the Kurdish State from Turkey as a different entity. Furthermore, as per the current updates, nobody claimed responsibility for the blast yet up-front.
The investigations and inspections by the government have started since the attack took place. Government officials assure the general public that the victims and their families will get justice as soon as possible. They also added that the responsible person would be accordingly punished, which would surely set an example in front of the terrorist organizations.
The Turkish media and press have followed the whole aftermath of the situation very closely and are awaring the local public about every update and information related to the issue.
The catastrophic event got registered as a dark chapter in Turkish history with immense pain and traumatic feelings.