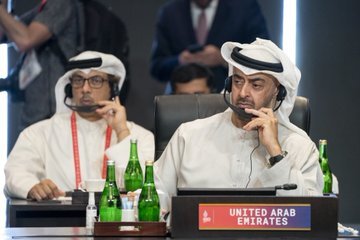 The President of the United Arab Emirates, Mohammed Bin Zayed Al Nahyan, participated in the 7th G20 summit 2022 in Bali, Indonesia. Accompanied by Indonesian President Joko Widodo and other global leaders at the event, President Al Nahyan expressed concern towards current global challenges.
The key issues discussed during the summit include food, climate, health, energy and several others emergencies going around the world.
He further added that, "these issues or conflicts could only be addressed or solved with sheer coordination and collective effort from all the nations participating in the summit."
As a representative of the UAE, the President said, "he is keen to participate in the event and work with other countries to preserve a better future for the coming generations."
Sheikh Zayed uploaded several photographs from the summit. All the world leaders involved in the group 20 panel can be seen genuinely focused towards the noble cause of making the world a better place.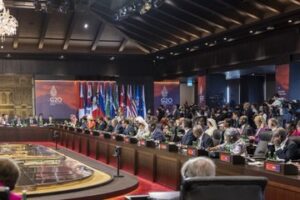 The G20 summit in Bali hosts a group of twenty world leaders from different counties.
The countries that are part of the summit include- Argentina, Australia, Brazil, Cambodia, Canada, China, Fiji, France, Germany, India, Indonesia, Italy, Japan, the kingdom of Saudi Arabia, Mexico, the Netherlands, The Republic of Korea, Russia, Rwanda, Senegal, Singapore, South Africa and Spain.
The global leaders taking part in the ongoing summit includes the prime minister of India, Narendra Modi; the President of the United States, Joe Biden, the President of the United Arab Emirates, Mohammed Bin Zayed Al Nahyan, along with other representatives from different countries.
The countries participating in the summit are the world's leading developed economies. The forum aims to grow world economies and prosperity altogether. This event helps promote better relationships and understanding among the participating countries.
The topics being discussed at the summit attract keen interest and attention from the participating nations. During the summit, the vital areas of concern were issues related to food, climate, health and energy.
At the same time, all participating countries are discussing their respective plans and future measures with each other to tackle all the issues addressed. Through the mutual understanding and collective effort from all the nations, the problems could be addressed and resolved appropriately.
The group 20 summit in Bali, Indonesia, in 2022 could come out with suitable solutions to the world's most significant problems, such as climate change, lack of energy production, low health care standards and food wastage. These global issues are essential to cover and resolve for future generations and their peaceful lives.