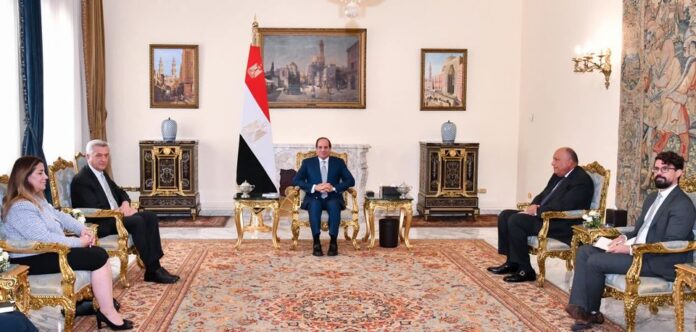 Egypt: President, Abdel Fattah El-Sisi, has recently received Filibo Grande, the United Nations High Commissioner for Refugees Affairs, in the presence of the Minister of Foreign Affairs, Mr Sameh Shoukry.
On his part, Presidential Spokesman Ahmed Fahmy has said that "President has paid the honour to the decades-long relationship of cooperation between Egypt and the United Nations Commission for Refugees." He stated that the Delegation's effort is taking internationally due to the escalating global refugee crisis.
During the meeting, President Abdel Fattah El-Sisi also emphasized the importance of addressing the phenomenon of refugee flows and all forms of displacement through a comprehensive approach. 
He also targeted the roots of the crises related to the challenges of conflict settlement, achieving security and political stability, and inclusive, sustainable development. On his part, the United Nations High Commissioner for Refugees Affairs affirmed the willingness of the Commission to strengthen cooperation with Egypt. 
The UN representatives referred to the pivotal role of Egypt at the regional and international levels in this framework. In addition, they also expressed their appreciation of the Commission for Egypt's efforts to host a large number of refugees of different nationalities.
In this context, the President's visit to the crossings on the Egyptian-Sudanese border touched on the tremendous effort made by the Egyptian authorities in cooperation with the United Nations and the Egyptian Red Crescent. President El Sisi emphasized helping the arrivals of Sudanese or different nationalities with open arms.
He also stressed that the international community and donor agencies should extend a helping hand to the host countries for refugees and those affected by displacement. The meeting also discussed ways to enhance cooperation between Egypt and the Delegation in light of the huge burdens that Egypt bears.
Furthermore, the meeting is aimed at refugees from many sister countries who live side by side with the Egyptian people as brothers and guests. The meeting also reviewed the updates on the situation regarding the exodus from Sudan in light of the ongoing crisis. 
In addition, the High Commissioner of the United Nations praised Egypt's intensive efforts to help settle the crisis and restore security and stability in Sudan.