Riyadh, Saudi Arabia: Last week, Nzinga Qunta moderated a panel on the future of mobility at the Future Investment Initiative's #FII6, a conference in Riyadh that brought together CEOs, entrepreneurs, and philanthropists from all over the world to discuss the future of humanity.
The theme of the event was Investing in Humanity: A Enabling new global order.
This panel focused on the future of mobility with industry leaders in the tech space.
Dr Maha Achour, Founder, CEO & CTO, Metawave Corporation, which is building technology using AI, to improve autonomous vehicles' abilities Alexander Asseily, Vice Chairman, Lilium, a company is building electric aircraft Peter Rawlinson, CEO & CTO, Lucid Motors, a luxury electric vehicle manufacturing Matt Pearson, Founder & CEO, Airspeeder, the world's first racing series for electric flying cars (and also my impromptu briefing manager on the day Sophie Desormiere, CEO, NAVYA, a French company which designs and constructs autonomous and electric vehicles.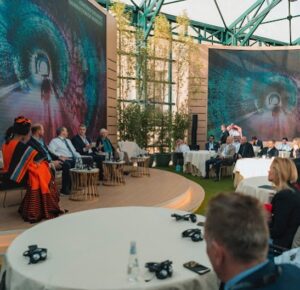 Panellists spoke of the technical improvements that electric vehicles have seen but also how we cannot imagine what will come from this tech now; in the same way, the inventor of my mobile device could not have foreseen app stores, Uber etc.
They collectively imagined the future, whether it was 3D mobility as we start to see new cities and modes of transport become normalised, and the impact that will have on other aspects of humanity or how 'normal' EVs will become.
The size of the autonomous car market is expected to rise to $11.03 billion by 2028, a massive leap from its 2021 value of $1.64 billion. The future is here, almost.