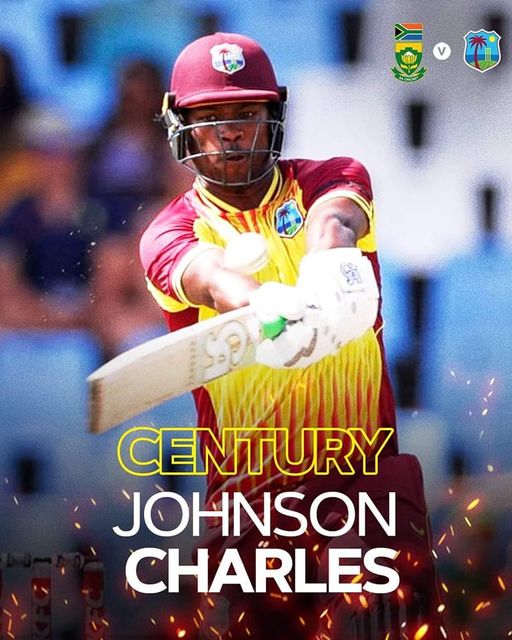 Saint Lucia: Ernest Hilaire – Deputy Prime Minister of Saint Lucia, has expressed his pride and pleasure while extending the congratulatory message to Saint Lucian cricketer Johnson Charles following his record-breaking performance of scoring 118 runs in just 46 balls while playing for the West Indies national team in a T-Twenty International match versus South Africa on Sunday, March 26, 2023.
According to the updates, while extending his honourable compliments to Johnson Charles, DPM Hilaire noted, "Congratulations to Johnson Charles for scoring his first T20I century and fastest in the history of West Indies cricket…well done, Jono! 118!"
The reports have confirmed that Saint Lucian wicket-keeper batsman Charles breaks the record of West Indies legendary batsman Chris Gayle during the match by hitting the fastest T20I century and registering his name among the most destructive batters of West Indies.
On his part, The Minister for Tourism, Investment, Creative Industries, Culture and Information for Saint Lucia, Ernest Hilaire, further extended his remarks and stated that Charles has made the country proud with his exceptional performance on the field. 
He also underlined that such historic knocks remain in the memories of the people, which also inspires young next-generation superstars of cricket to pursue and earn a name in the sport.
DPM Ernest Hilaire further acknowledged the special day and took to his social media handle and noted, "What a lovely day for cricket and the West Indies." 
Moreover, the reports conveyed that Johnson Charles has become the second cricketer from Saint Lucia to play for the West Indies national cricket team on the international level after the West Indies legendary all-rounder Darren Sammy.
Additionally, Johnson Charles began his international career for West Indies by debuting against Australia in a one-day international match in March 2012 and played his first T20I game against England in September 2011.
As per the updates from the historic match played between West Indies and South Africa, West Indies scored 258 runs for fall off five wickets at the end of twenty overs with the help of Charles's 118 runs in just 46 balls in which he slammed 11 (eleven) sixes along with 10 (ten) fours.
However, even after the record-breaking performance of Charles, South Africa managed to steal the win from West Indies in the end. But he received all the love and respect of the people around the Caribbean region, along with Saint Lucians, following the end of the match as he registered a joint third-fastest century in T20I history.