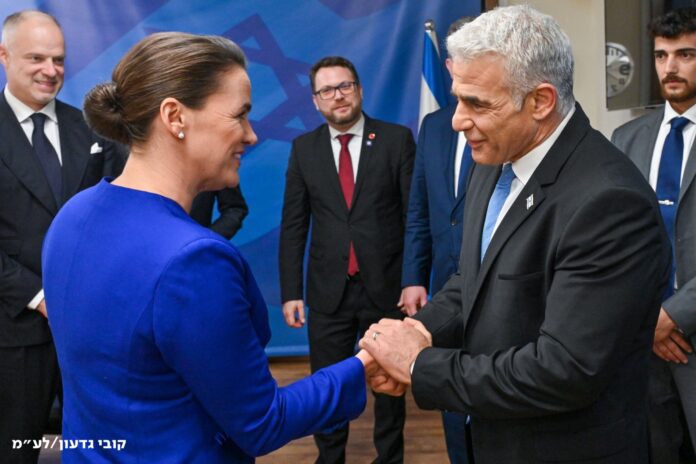 The Prime Minister of State of Israel, Yair Lapid, met with the President of Hungary "Katlin Novak", on Thursday, November 17. During the meeting, Lapid stated that this meeting was an acclamation to the longstanding relationship between Hungary and Israel.
"We discussed the shared and remarkable history of Israel and Hungary along with the cooperation and support for each other in the fields of Energy, Security and Water," the Israeli Prime Minister noted.
Moreover, Yair Lapid thanked and expressed his acknowledgement for the unwavering support of Hungary for Israel for a long, which read as follows, "Today, I met with the President of Hungary, Katlin Novak. We discussed the shared history of Israel as well as Hungary and the cooperation between the countries in the fields of security, energy and water. I thanked President Novak for Hungary's unwavering support for Israel."
Lapid uploaded a photograph from the event welcoming Hungarian President Katlin Novak during their meeting on his official social media handle representing his appreciation towards Hungary's cooperation and hold up.
Both countries have been involved in the smooth conduct and cooperation in National Security, Energy and Water field. They have been playing their part in enhancing the techniques to make better and futuristic adjustments in such areas. The fields mentioned above were mainly discussed during the meeting by which they planned future projects and trades between the countries.
The primary reason behind the well-established diplomatic connection between the allied nations was when a series of international and domestic events started occurring, eventually bringing the countries together and close.
Israel and Hungary have been sharing a long-established supportive relationship with each other in terms of exchanging several trades. Hungary has an embassy in Tel Aviv along with four honorary consulates. On the other hand, Israel has set up an embassy in the Budapest region of Hungary and an honorary consulate in Szeged.
Both countries have been stressing increasing tourism and trade among them and estimated that about 30,000 Jews from Hungary had migrated to Israel in 1946.
On May 18, 2021, the Hungarian Minister of Foreign Affairs assured his Israeli counterpart that "Hungary will always stand beside Israel".
The countries also supported each other's space research operations. They provided help and trade related to the procedures. The export and import between the two countries have been a primary source of business. Both nations had been exchanging various trade opportunities such as electronic equipment, machinery, nuclear reactors, etc.