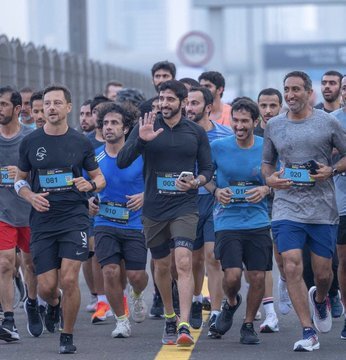 United Arab Emirates: The 4th edition of Dubai Run was organised at the Sheikh Zayed Road on 20 November, Sunday. The people turned the highway into the most beautiful running track in the world.
The Crown Prince and Former Deputy Ruler of Dubai, Hamdan Bin Mohammed Al Maktoum, expressed his gratitude towards the people of the United Arab Emirates for participating in the historic event.
Over 193,000 people took part in the Dubai Run on Sunday. The Sheikh Zayed Highway was turned into the world's largest running track during the event. 
Furthermore, he stated that the event was a memorable feat for the United Arab Emirates in consolidating the nation's position among the world's most dynamic and fittest cities among the world. The people of Dubai showed their interest and awareness towards the importance of fitness in this hectic world. They played their part in making history, accompanied by Hamdan Bin Mohammed.   
Thank you #Dubai! Over 193,000 ran with me in the 4th edition of #DubaiRun. We turned Sheikh Zayed Road into world's most beautiful running track. Thank you to everyone who contributed to world's largest fun run, consolidating Dubai's position among world's most dynamic cities. pic.twitter.com/3OFuMljrwI

— Hamdan bin Mohammed (@HamdanMohammed) November 20, 2022
The event was the 4th edition of Dubai Run. People of every age and level of fitness took part in the running event in Dubai. The roads and transport authorities had announced the rerouting of the vehicles before the event. The routes for the runners were divided into two sections to choose from as per their limits. As per their suitabilities for the more experienced and advanced runners, there was a 10km running course. On the other hand, there was a 5km route suitable for families and all kinds of fitness levels and children.
Both routes were directed through different locations. The 5km route was set to pass by Dubai Mall, Dubai Opera, followed by Burj Khalifa. This running course was very flat compared to the 10km course, which made it an ideal choice for people of older ages and children. The 10km route was set to follow by the Sheikh Zayed Road to the Dubai Canal which then returned to the Trade Centre before ending on Al Mustaqbal Street near DIFC. The course was comparatively longer and challenging, suitable for experienced runners with better fitness abilities.
The Dubai Run initiative was led by the crown prince of Dubai, Hamdan Bin Mohammed Al Maktoum. He uploaded several memorable photographs from the event on his official social media handle. He led the event gracefully and thanked all the runners for helping make history together.