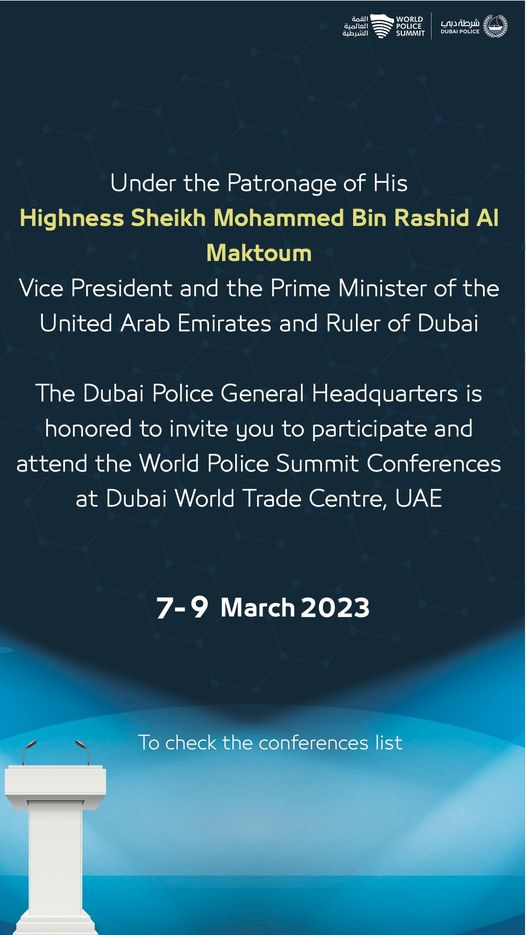 United Arab Emirates: The world Police summit is scheduled to be held from 7 to 9 March 2023 at Dubai World Trade Centre.
All the policymakers, Law enforcement officers, and security leaders will participate in the world police summit next year to discuss various adaptations and solutions to curb crimes in the future for their respective nations. 
The event will be organized under the supervision of his highness Sheikh Mohammed Bin Rashid Al Maktoum, Vice President and prime minister of the United Arab Emirates.
The world police conference will mainly focus on issues related to security, crimes, terrorist attacks etc. 
At the world's leading conference, leading security analysts and top-level officials from different nations will present their respective policies and plans to explore and develop modern ways to tackle crime. 
Dubai police summit will include six conferences with sub-sessions consisting of specific topics such as strategic and technical policies. The high-level sessions will talk about the field, such as forensic science, cybercrime and law enforcement policies further, in detail. 
Furthermore, the conferences at the world police summit will be carried out through different stages while covering important issues and topics.
The main topics to be discussed at the summit are as follows: –
Crime Prevention

Forensic Science

Anti – Narcotics 

Police Innovation and Resilience

Drones

K9
What is the meaning of such topics and their major functions and sub-sessions?
CRIME PREVENTION: –
 The first topic that will be covered at the conference is 'crime prevention. The world police summit will focus on crime prevention by examining and planning future law enforcement policies.
 At this conference, the officials, government leaders and policymakers will discuss developing future strategies to increase public safety and security for crime prevention for its citizens.
 Tracks and Sessions to be covered in 'Crime Prevention: –
CRIME 

FINANCIAL CRIME AND ANTI-MONEY LAUNDERING 

CYBERCRIME
The sub-sessions will cover high-level discussion in detail and how to tackle every bit of challenges and difficulties for the police forces to maintain people's trust while performing their duties simultaneously. The sessions will follow through different time schedules as well during the meeting.
 Forensic science is considered one of the strongest pillars of crime prevention, which depends entirely on scientific research and closely monitored crime scenes. The revolution in forensic science is changing the entire scenario of solving crimes for good. 
The evidence that comes to light through forensic science investigation helps identify the suspects more accurately and efficiently. 
 During this conference, forensic experts and researchers from around the world will participate in the meeting and will present their views and future objectives to enhance the service further. 
The field is also getting better at technological advancement and the latest techniques, which makes it even more promising in solving complex criminal matters.
 Tracks and sessions to be covered under 'Forensic Science':-
BIOLOGY AND DNA

DIGITAL FORENSICS

PATTERN IDENTIFICATION

CRIME SCENE

FORENSIC PSYCHOLOGY 

CHEMISTRY AND TOXICOLOGY

CHEMISTRY AND TRADE EVIDENCE
 The sub-sessions under forensic science will cover various topics in detail, as mentioned above. The crime scene is full of evidence and things to be handled carefully to identify the suspects successfully. 
Through such sub-sessions, the forensic scientist gets a better understanding and suitable tools to preserve critical evidence and identify criminals at and fast pace.
Anti-Narcotics: –
The officials and experts from the anti-narcotics department be focusing on rapid solutions to handle issues related to such crimes. Drug abuse can be considered a severe concern to tackle to save people from getting into such bad conditions caused by narcotics.
 POLICE INNOVATION and RESILIENCE: –
 The police innovation and resilience include transport safety tracks. It focuses on enhancing road traffic enforcement in the age of autonomous vehicles. 
The creations in the vehicle industries are getting better with the help of the latest technologies. Self-driving cars are introduced in the market by which the interaction between police officers and people is expected to be lesser.
 Sub session that comes under 'Police innovation and resilience: –
INNOVATION AND TECHNOLOGY

POLICE LEADERSHIP, ORGANIZATIONAL RESILIENCE AND OFFICER WELLBEING

TRANSPORT SAFETY

WOMEN POLICING 

COMMUNITY HAPPINESS, EXCELLENCE AND QUALITY
 The sub-parts under police innovation and resilience explain the different technological advancements in the police department. The experts from the technology field will share new ideas to make better adjustments in the technology used in the forces to ensure safety for the public.
 DRONES: –
 The usage of drones in police law enforcement services has become an inevitable part. These are used for both recreational and commercial purposes. 
The future airspace is also considered to be dominated by Drones. According to the officials, drones have become a critical asset for the security forces. 
It helps in spying on enemy bases along with getting a better understanding of emergencies. The planning to execute a mission depends mainly on drones surveilling the whole situation. Besides all its benefits, it should be handled with proper care and training, as per experts.
K9 techniques consist of dogs in law enforcement services. They have become an essential asset for the security forces worldwide through proper training and enhancing their capabilities.
 Dogs are used in identifying explosive devices, suspicious things and infectious diseases. A significant example of k9 services is Covid-19. The relationship between dogs and their handlers is crucial in the scenario.
It is considered that k9 experts and officials will be adding new training modules in this sector.