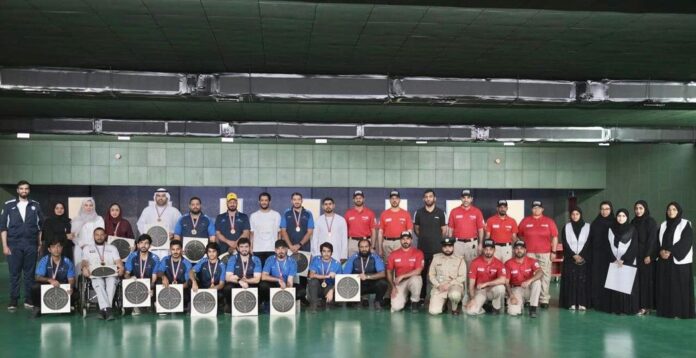 United Arab Emirates: The general command for Dubai Police has organized a shooting championship for the people of determination (individuals with hard-to-hear conditions and deaf) as part of Dubai Police's participation in the ongoing fitness challenge.
The event was organized under the Dubai fitness challenge 2022, 30×30, which started from 29 October to 27 November. Furthermore, the championship was held for the initiative of 'Positive Spirit' and the motive of empowering the people with determination. 
The General Department of Organization Protective Security and emergency accompanied the people of determination empowerment council in the smooth conduct of the shooting championship event at the Police Academy.
Ali Khalfan Al Mansouri, Brigadier, acting director of the general department of community happiness and head of the positive spirit initiative at Dubai Police, attended the entire ceremony on the last day of the fitness challenge30×30, 2022.
Lieutenant Colonel Basit Ali, Director of the sports affairs department, was also present during the event along with Abdullah Al Shamsi, captain and vice president of the empowerment council for the people of determination. 
Moreover, the whole shooting competition was held under the expert supervision of the coordinator of the positive spirit initiative and member of the people of determination empowerment council, Ms Fatima Abu Hajar.
The Dubai police have been taking part in the Dubai fitness challenge this whole time in different sports and competitions, said Al Mansouri.
Today's shooting championship was another step taken by the Dubai police force towards promoting the concept and habit of adopting different sports among the nation's people. 
20 players from the Dubai Club for people of determination, Dubai Municipality and several different clubs for people of determination took part in the shooting championship combined.
The primary motive behind organizing the event was to indicate that the Dubai Police is working and putting their efforts into building a positive community with the help of sports and socially meaningful work. 
Furthermore, officials from the Dubai police have said that the sporting event was a meaningful gesture to integrate and empower the people of determination into society. Officials noted that it is a great way to discover their sporting talent and potential.
The Dubai Fitness Challenge was launched by his highness and the Crown Prince of the United Arab Emirates, Sheikh Hamdan Bin Rashid Al Maktoum, in 2017.
 It was the initiative started by the Dubai government to promote and encourage people to adopt a healthy lifestyle by exercising for 30 days for just 30 minutes. 
Different segments of society participated in the fitness challenge irrespective of age and fitness level. People from the United Arab Emirates participated in the fitness challenge and reciprocated the efforts made by the authorities and Dubai Police.