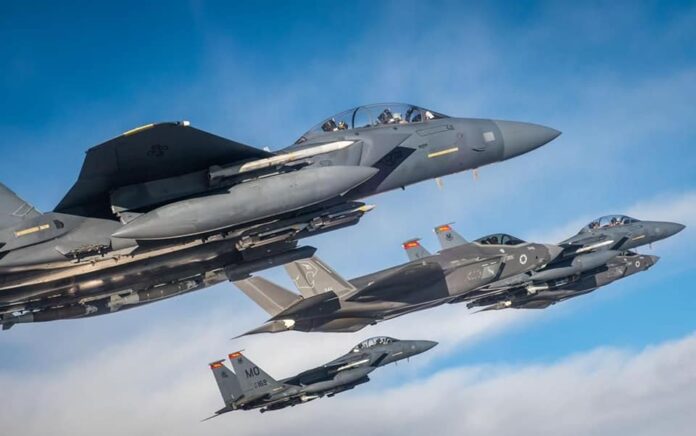 Israel: The Prime Minister of Israel, Yair Lapid, attended an event between IDF (Israel Defence Force) and the United States of America armed forces in a series of joint exercises, which included flight operations in Israeli air space on 30th November.
During the joint flight exercise, various fighter jets and aircraft took part in the event, including IAF (Israel Air Force) F-35I "Adir" aircraft that accompanied four American F-15 fighter jets through Israel's skies. 
Furthermore, Aerial refuelling was another primary exercise during the event. An American KC-135 aerial refuelling aircraft performed the activity of refuelling different IAF (Israel Air Force) F-16 "Barak" fighter jets as the IAF, and the U.S. Air Forces put a show in front of the world. 
Moreover, as per the officials of the IAF and U.S. air forces, the performed exercises are considered a significant and remarkable step towards building a better relationship between the two militaries. 
Both nations got involved in the exercise to increase strategic cooperation and mutual inputs in response to common concerns in the Middle Eastern regions.
One of the specific reasons for arranging such an operation was to tackle the critical situations in middle eastern areas, along with those mainly posed by Iran.
Prime Minister Lapid further stated that the strategic collaboration of Israel with the United States and other countries strengthens and enhances the capabilities of the IDF armed forces to counter challenges in the Middle Eastern conflicts, especially Iran. 
Lapid noted that "we have partners in heaven and on earth, but we also have the right to act as we understand and protect our country".
"Aviv Kochavi, the commander in chief of staff, along with Tomer Bar, the Commander of the Air Force, Champion, presented me the distinct descriptions and information to talk about operational issues toward the potential threats and the tactics to response against the Iranian threat". Said PM Lapid. 
In addition, PM Yair Lapid also addressed that he got several presentations about the activities and drafts regarding the long-term flights against third-party nations that tested the IDF's intelligence gathering and attack capabilities.