Egypt: Dr Yasmin Fouad, the Minister of Environment, announced that the installation of the Monitoring station project to record noise levels in Minya Governorate was completed in Eastern Egypt yesterday, December 5th.
As per the reports, the Monitoring station is the third station installed In Eastern Egypt.
Dr Yasmin further stated that the national government has been putting great efforts towards environmental upliftment through the significant expansion of the Environmental Affairs Agency in monitoring and recording the noise, which helps in the preparations of the appropriate plans and strategic solutions to control and reduce it to substantial amounts.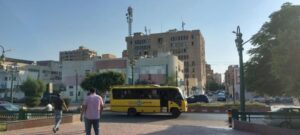 We are continuing the efforts of the Environmental Affairs Agency in expanding environmental monitoring of noise to prepare solutions and strategic plans to reduce it.
Furthermore, the environmental minister Dr Yasmin Fouad stated in her statement that the noise monitoring device in Minya Governorate is the third unit installed in the Upper Egypt region. The previous two stations have been set up in the Fayoum and Beni Suef areas.
As per the authorities from the environmental ministry of Egypt, Minya Governorate was the first choice to install a device to monitor its Noise levels because of its advantage of being at a point way higher than Upper Egypt governorates in terms of population.
The framework in which the device was installed was explicitly targeted to implement the plan of the Egypt Government to achieve accurate data and recording from environmental distancing indicators which target achieving the Sustainable Development Strategy 2030.
The Ministry of Environment further conveyed that setting up a number of noise stations in the national noise level monitoring network has nearly reached 40 stations distributed across the republic of Egypt.
Moreover, Dr Yasmin ensured the residents that the environment ministry has been putting great efforts which are still under endeavour to develop and increase the number of stations of the national noise level monitoring network to assess and get a better picture of the current situation of noise levels, which is part of the ESA plan for noise control in different regions.