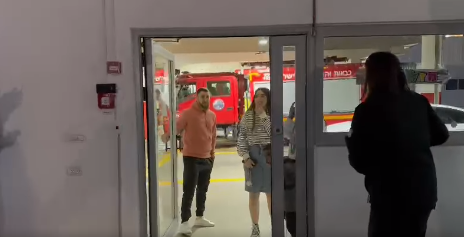 Israel: The Fire and Rescue Authority Department of Israel has posted a heartwarming update where the officials from the Fire department celebrated the 13th birthday party of a girl named Shira at the station.
As per the update, Fire and Rescue Authority officials conveyed that Shira is from Holon city, Israel. She invited her friends to a birthday party about a week ago and was supposed to host them at the celebration, but according to Shira, no one of her friends showed up for the birthday party.
Furthermore, the incident came to the knowledge of the employees of the Fire and Rescue station of Holon after a few days, after which the employees of the station decided to organize a grand surprise birthday party for Shira at the fire station.
The Station Commander, Tafsar Chancellor Shaul Rahamim, expressed his thoughts and opinion following the birthday celebration of Shira.
He stated, "Boycott is terrible for anyone who has experienced such a situation. Holon Station is full of heart and desire to make people happy".
Commander, Shaul Rahamim, called his fellow employees and firefighters full of positive energy and praised the special event they organized.
The event was a special occasion for Shira as well, as she celebrated her 13th birthday with joy alongside the brave firefighters of the state.
Moreover, Fire and Rescue Department officials shared a video on their social media account in which Shira was so happy and surprised at the exact moment.
When she entered the station, all the officers and employees of the fire department started applauding her and singing happy birthday wishes to Shira with joy and welcoming vibes.
Some employees were shooting a video of such a special occasion in the station. Everybody at the station looked happy and cherished during the celebration, making Shira's day special.