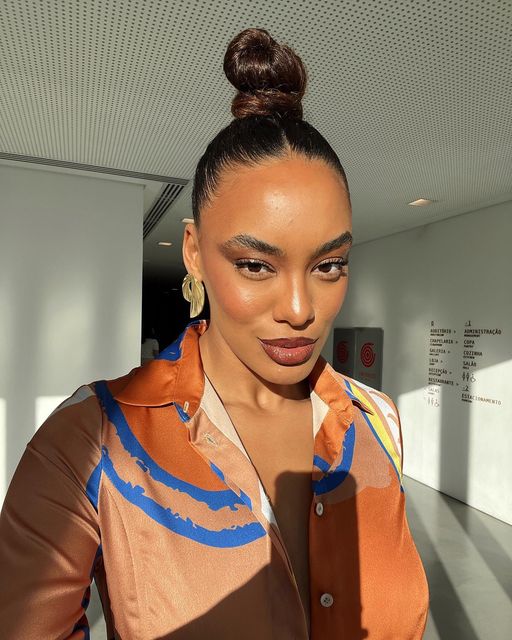 Brazilian model and the crowned Miss Brazil 2016, Raissa Oliveira Santana, updated a post in which she stated that she got a chance to do her hair and makeup when she was on the way to an event in Sau Polo, Brazil, last night.
Raissa Santana expressed her excitement about the experience she had last night; she stated that if there is one thing that she loves to do, it is to be able to do her styling and makeup before an event or party that she is going to.
Furthermore, in her post, she also recognized the hard work and skills of a professional they offer in their services to play their part in the productions to make us event ready. Despite the importance and benefits of a professional stylist,
Raissa Oliveira Santana pointed out that she would always prefer to do her stuff, knowing that it gives her a sense of independence and allows her to experiment with her styling.
In addition, Raissa Santana also shared that she did all of her makeup and hair by herself in her car on the way to the event, which gave her an interesting and fresh job to do and also ended up delaying her for the event,
In the end, Raissa concluded that it all went well for her at the end of the day, giving her a new experience.
On her official social media account, Raissa Santana uploaded a photograph of her look for the event she did for herself.
In the picture, she was seen in a stylish bun with an elegant outfit. She uploaded her photo and asked for the opinion of her fans and loved ones by putting a question in her caption stating, 'did you like the result?'.
Per the previous stats, Raissa Oliveira Santana has also represented Brazil at Miss Universe Pageant 2016, ending in the top 16 contestants.
She is also a marketing student and a famous Brazilian model well-known for her unique and elegant style. She likes to share her photographs and updates with her fans, spreading positivity among people.