In the ongoing COP15 (Conference of Parties) for the convention on Biodiversity in Canada, Montreal, the environmental Minister of Egypt, Yasmin Fouad, took part on behalf of the Environment Ministry and her delegation. She pointed out key factors related to the biodiversity convention during the meeting.
In the fifteenth session of the Conference of Parties to the Convention on Biodiversity COP15 in Canada, minister Yasmin Fouad participates in a dialogue with the heads of UN agencies on commitments to a shared approach to biodiversity and its framework for beyond 2020
Yasmin Fouad stated on her part during her speech, "UN (United Nations) agencies have a strong role in supporting developing countries to implement their national plans for biodiversity and sustainable development".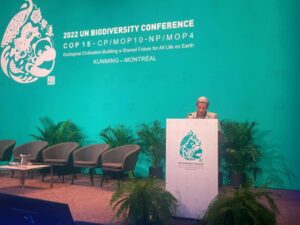 The special session for the Dialogue of Heads of United Nations Agencies, entitled "Commitments to Implement the Joint Approach to Biodiversity and the Post 2020 Global Biodiversity Framework".
As per the recent updates, in her statement at the session, "the Minster, Yasmin Fouad, referred to the role of UN agencies and the work that came into light with the birth of the Rio three agreements (biodiversity, climate change and desertification) 50 years ago, which are known as the cornerstone for sustainable development.
On the other hand, the individual action on Every Agreement has yet to help to achieve the desired goals, creating an urgent need to reconnect the paths of the three conventions for the benefit of the planet.
The Minister explained that the authorities from the United Nations play a significant role in supporting national governments to integrate biodiversity and environmental dimension into development plans, along with keeping the implementation of the Global Biodiversity Work Framework for Post 2020, which we promised in 2017 at COP14.
The Egyptian Minister conveyed that "The world is meeting today, 50 years after the birth of the Rio Trio Accords, following the progress made at the COP27 climate conference in putting strong collective action to link biodiversity and climate change into the Sharm El-Sheikh Executive Plan,
She further added in her statement that confidence in UN agencies would help developing countries make progress and secure their efforts and capacity to achieve sustainable and substantial development goals and aspirations for future generations by supporting their national power to overcome biodiversity challenges.
In the end, the Minister specifically pointed out the need to take into account the human perspective in the process of biodiversity preservation, as humans are the stakeholders and most affected by the loss of biodiversity and the negative effects of climate change that some residents have to migrate and relocate to less affected places.
"This is the burning questions about the issues of peace, security and human rights, which make us obliged to take Human dimension in mind in launching a framework that puts people and nature in harmony, and puts them at the top of priorities". Said Fouad.