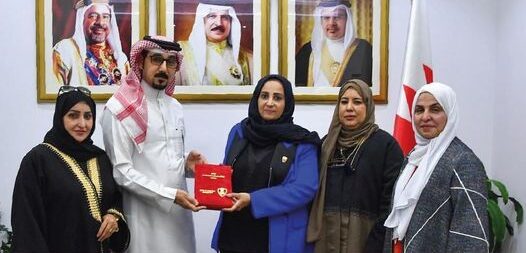 Bahrain: The Minister of Health of the kingdom of Bahrain, Dr Jaleela Bint Sayed Jawad Hassan, has recently received a copy of a book about the national efforts of the Kingdom of Bahrain in fighting the Coronavirus written by Mr Jafar Mohammed Hoishel Al-Masied.
As per the recent updates, Dr Jaleela Jawad Hassan received the Minister of Health at her office in the ministry building in the presence of Dr Maryam Al-Hajri, Assistant Public Health Advocate, Mr Jaafar Muhammad Hoyishel Al-Hajdine.
During the meeting, Mr Jaafar Muhammad Hoyishel Al-Hajdine dedicated a copy of his book "National Efforts of the Kingdom of Bahrain in combating the Coronavirus Pandemic Covid-19 in addition to maintaining the progress of goals" Sustainable development", which includes documentation of the Kingdom of Bahrain's efforts to address the Corona pandemic.
In his statement, the Minister of Health and Mr Jafar Mohammed Hoishel praised Christians for the outstanding effort made by Christians in reviewing the Kingdom of Bahrain's national efforts and full readiness to face the Coronavirus (COVID-19).
Minister of Health expressed her happiness with the findings of the study, that the Kingdom of Bahrain continued to achieve its sustainable development goals, despite the circumstances Pandemic, and accelerating those goals, said reports.
Dr Jaleela Hassan also praised the content of the book documenting the strategic response of the Kingdom of Bahrain to the virus and its efforts to counter it through alertness and early reaction, indicating that the Kingdom of Bahrain followed the "tracking, testing, treatment" methodology to restrict the contaminants and limit the spread of the virus in the community.
Furthermore, the health ministry also conducted intensifying random tests in different areas of the kingdom; the tests provided Free treatment, and vaccination for citizens and residents, making it a leader globally, noting that all these aspects have been highlighted in this book.
"The principle of appreciating all sincere national efforts working for research, documenting and development in the Kingdom of Bahrain in all spheres, especially the health sector, wishing him continued success Paying and working on writing more in health" health minister noted.
For his part, Christians pointed out that his book, published by the German international publishing house "Lambert" – reviews the results of a study conducted at the University of Bahrain on sustainable development in Bahrain, its health situation before, during, and the path of growth in implementing sustainable development goals during this period.
During the end of the meeting, Mr Jafar expressed his thanks and appreciation for encouraging the Minister to publish more scientific studies and present more written works in the health field, certainly that the tremendous efforts of the Coordinating Committee, and the Bahrain team, encouraged him to accomplish this study.