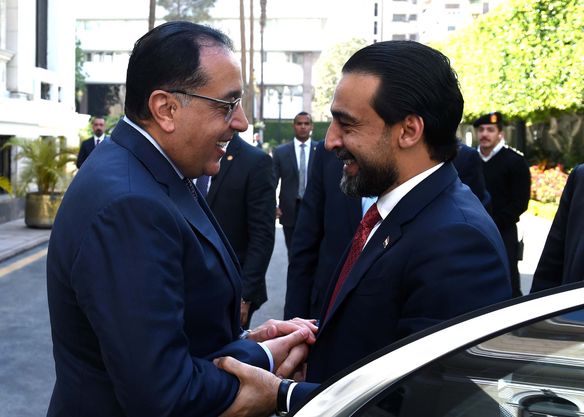 Middle East, Egypt: The Prime Minister of Egypt, Mostafa Madbouly, has recently received Iraqi Parliament Speaker Mohamed Al-Halbousi along with his accompanying delegation. The meeting was conducted to discuss mutual cooperation and strengthening relationships between both nations.
As per the shared updates, Egyptian Prime Minister, Madbouly has stated on his part that Egypt has been keen to strengthen joint cooperation with Iraq in various spheres. 
He further cited that the meeting was held in the presence of Advisor Alaa Fouad, Minister of Affairs of the Parliament, Assistant Minister of Foreign Affairs for Arab Affairs, Ambassador Alaa Musa, and Mr Ahmed Nayef Al-Dilimi, Ambassador of Iraq to Egypt.
The reports have stated that the Prime Minister began the meeting by welcoming the Speaker of the Iraqi Parliament, expressing his eagerness to enhance cooperation with the Iraqi Parliament in all that serves the interests of the two sister countries and peoples within the framework of their historic relationships, brotherhood, unity of destiny and common goals.
On his part, PM Madbouly emphasized the importance of the role of the prosecutors in consolidating relations between the two nations, expressing his appreciation for the close cooperation between the Egyptian and Iraqi legislative institutions.
He pointed out the level of distinctive relations between the two countries and the tangible development that he has witnessed in recent years, either on the bilateral or trilateral level between Egypt, Iraq and Jordan, added reports.
He also touched on the ongoing coordination between stakeholders in the two countries to hold meetings of the Joint Egyptian Supreme Committee in Cairo, expressing his anticipation for the Joint Committee to come out with results that contribute to furthering bilateral relations.
During the meeting, the Speaker of the Iraqi Parliament thanked the Prime Minister for the warm reception, citing the Iraqi Parliament's eagerness to strengthen bilateral relations with Egypt within the framework of the joint trilateral cooperation mechanism between Egypt, Iraq and Jordan.
While extending his remarks, Iraqi Speaker, Halbousi pointed out, "We also want to benefit from the experiences of Egyptian companies in the Iraqi market, and we look forward to enhancing joint cooperation with Egypt in various fields, including the triple electric link with Jordan."
The meeting also discussed a number of common Arab issues and efforts being made to strengthen cooperation between Arab countries, reports concluded.