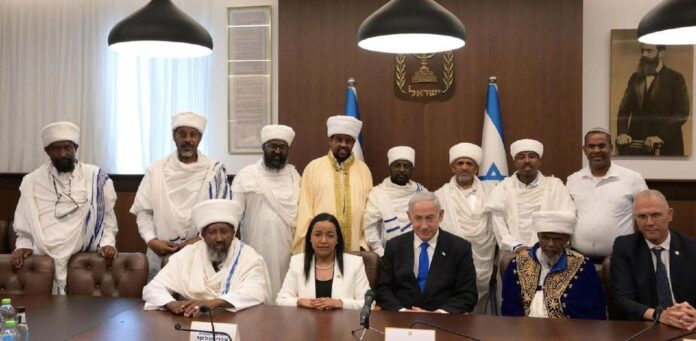 Israeli Prime Minister Benjamin Netanyahu recently participated in an extensive meeting with the senior religious leaders (Kesim) of the Ethiopian Jewish Community in Israel on May 18, 2023 (Thursday). 
The meeting was hosted at the Prime Minister's Office in Jerusalem, where both leaders discussed a number of challenges and issues related to community matters and the position of the Jews still in Ethiopia to Israel.
According to the shared information, the updates regarding the meeting were shared through the official social media account of the Prime Minister of Israel. While delivering his remarks at the meeting, Prime Minister added that along with the relocation of the Jews, the shortage of Positions and A shortage of synagogues is also a matter of concern.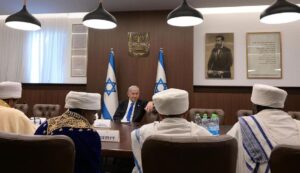 Meanwhile, Prime Minister Benjamin Netanyahu added that the mentioned issues are worth considering and should be addressed with the right intent. Furthermore, the update further read, "Following the state ceremony for Ethiopian Jews who perished on their way to Israel, Prime Minister Benjamin Netanyahu, today (Thursday, May 18 2023), at the Prime Minister's Office in Jerusalem."
In his remarks, Prime Minister Netanyahu instructed Prime Minister's Office Director-General Yossi Shelley to evaluate the possibility of rendering assistance in conjunction with the Religious Services Ministry and the Aliyah and Integration Ministry, said the reports.
In addition to this, Prime Minister of the State of Israel, Benjamin Netanyahu took it to convey that "I want you to know that you have a channel of communication via MK Tsega Maleku and PMO Director General Shelley; we are in favour of resolving these problems. We have surely proven this in the past, and together we will prove it again. This is important."
During the meeting, PM continued his address regarding the issues and stressed that "I am very moved when I sit on Mt. Herzl and hear these stories; it is very hard. The heart breaks: it is not a show. It is very important to me. I have said this earlier, and I want to say it again here: It is of utmost importance that all Israeli children know this story. It is essential as it is about the Jews of Ethiopia and because it is the essence of the return to Zion and of our revival."
"I am always pleased to see you, and I very much appreciate the fact that it is precisely in the community about which it was said that the faith has lapsed that they have all fled from Judaism; I am pleased to see that it is not so. This is important," the Prime Minister said during the meeting while addressing the issues.
It is noteworthy that Prime Minister was also accompanied by the MK Tsega Maleku, nine Kesim and Zera Aharon¬ non-profit association Chairman Samai Elias.