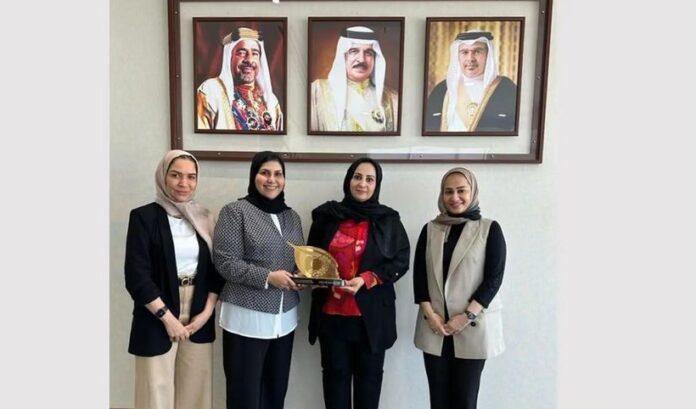 Bahrain: The Minister of Health of the Kingdom of Bahrain, Dr Jaleela Jawad Hassan, and the CEO of Primary Health Care Centre, Dr Lawwa Rashid Shaweter, has recently extended a congratulatory message to the family medicine consultant named Dr Reham Al-Jaraf for winning the first place in the future preparatory competition held in the UAE.
According to recent updates, the Ministry of Health, under the leadership of Minister Jaleela Hassan, has shared an update regarding the congratulations and best wishes extended to the Reham Al Jaraf.
The update read that "Dr Reham Al-Jaraf, a family medicine consultant at Primary Health Care Centres, won the first place in the Future Readiness Competition to participate in a study titled "Future Horizons for Rehabilitation and Combating Drug Abuse" based in the UAE organized by Sharjah Police in collaboration with the Academy of Police Sciences.
On this occasion, Jaleela Hassan, the Minister of Health, expressed her pleasure at the achievement of Reham Al-Jarf, indicating that this achievement, added to the records of the citizens of the bus, is a source of pride, and demonstrating the worthiness of the national health personnel, said the updates.
On her part, Dr Al-Jaraf expressed her best wishes for the Kingdom of Bahrain, which contributed to strengthening its position at the regional and international levels under the wise leadership of King Hamad bin Isa Al Khalifa. She mentioned that the support and support of Prince Salman Bin Hamad Al Khalifa has also been an immense source of inspiration for her throughout the journey.
On her part, Dr Lawwa Rashid Shaweter, CEO of Primary Health Care Centres, praised Dr Al-Jaraf's tremendous efforts in this study, noting that primary health care centres take pride in these supervised models locally and internationally. She said that the study is new of its kind at the local and international levels, aiming at Optimal readiness for challenges, seizing and manufacturing future opportunities.
Furthermore, she also mentioned that it would contribute to leadership in all spheres and spread a culture of future stewardship by engaging scientists, researchers and students to sustain government excellence.
It was also emphasized that it creates partnerships with prestigious research institutions and centres in futuristic studies, reaching innovative solutions to future phenomena and challenges and supporting decision-making To provide a promising vision and strategy for supervision and readiness.