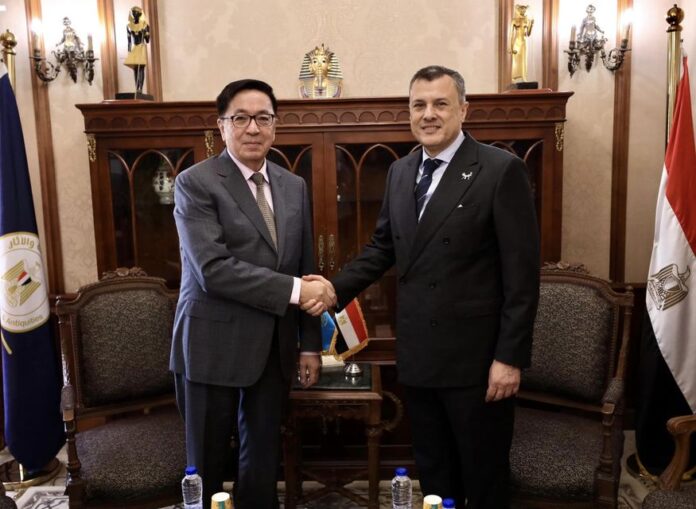 Egyptian Minister of Tourism and Archaeology, Today, Ahmed Issa, has met with Ambassador Khairat Lama, the Ambassador of the Republic of Kazakhstan in Cairo and the accompanying delegation at his office at the headquarters of the ministry in Abbasiya. 
The meeting was focused at exploring ways to enhance cooperation between Egypt and Kazakhstan on the tourism and archaeological level.
During the beginning of the meeting, the Ambassador and his accompanying delegation were welcomed and emphasized the long-lasting relations between Egypt and Kazakhstan in various spheres, especially tourism and archaeology.
During the meeting, ways to enhance cooperation to push more tourist movement from the Republic of Kazakhstan to Egypt were discussed, especially regarding the rise in the number of tourists arriving from Kazakhstan to the Egyptian tourist destination to enjoy the diverse tourist and archaeological sites.
Furthermore, it was said that the preparations for the joint celebration of the opening of a mosque were discussed. Al-Dahir Pepres in the Al-Dahher neighbourhood during the month of June, in conjunction with the 800th anniversary of the birth of Sultan Al-Dahier Pepres.
It is noteworthy that in 2007 a cooperation agreement was signed between the two Egyptian and Kazakh governments for the restoration of Al-Dahir Pepperis Mosque, the project of restoration of the mosque started in 2007 and stopped in 2011 and resumed work in 2018, said the minister.  
The restoration project involves the reduction of the groundwater ratio of the mosque, all construction, fine and architectural restoration, replacement of damaged and perishing stones, change of lighting systems and restoration of old parts of the Qiblah porch.
Moreover, as part of the work to increase tourist traffic from Kazakhstan to Egypt, a direct flight between Egypt and Kazakhstan was operated in March 2022. 
In addition to the presence of an exhibitor flight with an average of 8 flights per week, the Egyptian General Authority for Tourism Activism participates in tourist exhibitions held in the Republic of Kazakhstan.
In the end, the reports stated that the meeting was attended by Counsellor Amr Abdullah, General Supervisor of the General Administration for International Relations and Agreements in the Ministry of Tourism and Archaeology, Advisor Sangar Walikhanov at the Embassy of the Republic of Kazakhstan in Cairo, and Mr Talgat Elias, First Secretary at the Embassy of the Republic of Kazakhstan, Cairo.