Egypt: The Deputy Minister of Tourism and Archaeology for Tourism Affairs, Ms Ghada Shalaby, has met with the Ambassador of Mongolia in Cairo, Bulgan Enkhtuvshin and discussed various ways to promote tourism cooperation between both countries and boost tourism movement arriving in Egypt. 
The meeting was held at the ministry's headquarters in Abbasiya and welcomed different strategies related to the motive.
At the beginning of the meeting, Deputy Minister Ghada Shalaby welcomed the ambassador, emphasizing the special relations between Egypt and Mongolia.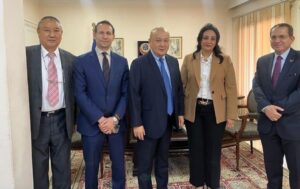 She reviewed the ministry's strategy to push more incoming tourism movements and noted that the ministry is doing an effort to open new tourism markets as well as encouraging the private sector to work on increasing this movement.
In addition, Deputy Minister also highlighted the ministry's role as sergeant, organizer and licenser For Tourism Industry in Egypt. On his part, the ambassador of the Republic of Mongolia in Cairo pointed out that the current year marks sixty years of diplomatic relations between Egypt and Mongolia agree.
The ambassador of Mongolia expressed the desire of the Mongolian side to make use of the Egyptian tourism experience for its extensive experience in different tourist styles. It was also emphasized that the support to promote Egyptian tourism in its country highlights what you have of outstanding tourist opportunities.
Furthermore, the Mongolian ambassador outlined that the Egyptian tourist destinations cater to all tastes of Mongolian tourists who prefer cultural tourism and beach tourism producers; Egyptian destinations have great potential in both styles.
"The ambassador also praised the facilities provided by the Egyptian government to tourists from a number of countries regarding obtaining an entry visa to Egypt at different ports of arrival," said the reports.
At the conclusion of the meeting, it was agreed to coordinate a meeting between the Egyptian private tourism sector and its counterpart in Mongolia through video conference technology to present possibilities, exchange views and suggestions, contributing to further push of tourism movement from Mongolia to Egypt.
It is noteworthy that the meeting was attended by Mr Mohammed Salama, Head of the Central Administration of Tourism Offices in the Egyptian General Authority for Tourism Activity, Mr Khajyekbyer Kukyen, Consul at the Embassy of the Republic of Mongolia in Cairo, and Advisor Amr Abdullah, General Supervisor of the General Administration for International Relations and Agreements at the Ministry of Tourism and Archaeology.