Iraq: The Prime Minister of the Republic of Iraq, Mr Mohammed S Al-Sudani, has recently received a delegation of German company representatives, accompanied by the German Ambassador to Iraq, Mr Martin Jäger, yesterday, May 15, 2023. 
The Prime minister welcomed the guests at his office, where they held an extensive meeting addressing mutual cooperation and matters of common interest.
According to the recent information, the update was shared by the Media Office of the Iraqi Prime Minister, Mohammed S Al Sudani, through its official social media handle. The update stated that during the meeting, both parties extended greetings to each other and had a chat over different topics, including a number of agreements.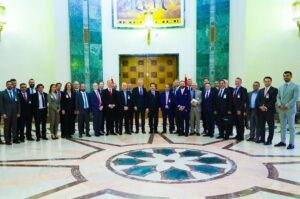 The shared updates further read, "They discussed the practical implementation of agreements made during the Prime Minister's visit to Berlin in January, focusing on cooperation and partnership opportunities across multiple sectors."
The Prime Minister highlighted the growing development of the relationship between Iraq and Germany, emphasizing that Iraq is open to all kinds of economic partnerships with its friends and partners.
While extending his remarks during the meeting, PM Sudani further noted that Iraq's current state of security and economic stability serves as an encouraging factor, supported by both official and popular desire from all parties for the success of Iraq's economy.
During the meeting, the Prime Minister of Iraq, Al-Sudani, discussed investment opportunities and potential collaboration with German companies in Iraq. 
He emphasized that the government's clear program and vision for various sectors have enabled the resumption of projects that had been stalled for more than fifteen years, creating a favourable environment for international companies to invest in Iraq and contribute to the reconstruction of its infrastructure.
On their part, the representatives of the German companies expressed their enthusiasm and desire to work in Iraq, acknowledging the government's clear commitment to investment and economic development.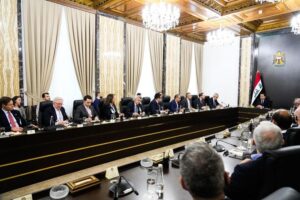 While concluding the meeting, the representatives indicated that the progress made during the last six months is equivalent to that made in the previous 15 years. They also affirmed their readiness to explore potential opportunities across various economic sectors.