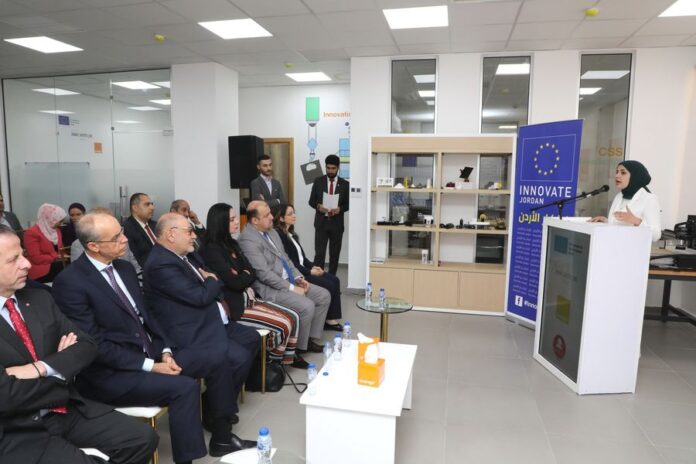 Jordan: Hashemite University has officially inaugurated the permanent digital manufacturing lab 'Fablab' and introduced digital manufacturing courses for the students on Wednesday, 17 May 2023. 
President of Hashemite University, Mr Dr Fawaz Abdel Haq Al-Zaboun, witnessed the opening ceremony of the Fablab along with several other officials from the University.
As per the shared updates, due to the opening of the lab, students of Hashemite University will be able to gain manufacturing, digital design and primitive modelling skills using computers and apply their creative and athletic ideas at Orange FabLab for Permanent Digital Manufacturing.
The reports stated that President Abdel Haq Al Zaboun was accompanied by the Executive Director for Institutional Communication and Sustainability in Orange, Jordan, Eng. Rana Dababneh, in the presence of Dr Mohamed Masha'ala, Vice President of the University for Planning and International Communications Affairs, and Mr Dr Aouni Atardat, Deputy Dean of the Faculty of Engineering and Presidents departments and some of the faculty and students.
The digital fabrication lab included equipment including 3D printers to build models and parts, a robotic project electronic workstation that uses micro-controlled units such as Arduino, laser cutters for wood, acrylic and cardboard engraving, a small CNC router for wood panel cutting and engraving, an electronic panel making machine, and a full set of hand tools.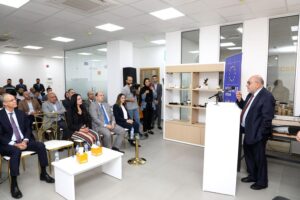 "During the official opening of the laboratory, the graduation of the first batch of students engaged in practical training in the laboratory in digital manufacturing course was conducted, and there were 20 students who received integrated training on digital manufacturing skills, equipment and tools," said the reports.
"We are proud of this qualitative network with Orange with EU support through which we are opening the permanent FABLAB Digital Manufacturing Lab, which provides an exceptional opportunity to train and gain the university ranks," said the President.
Furthermore, it was stated that the engineering and the community had the technical and cognitive skills needed to prepare them for the Fourth Industrial Revolution data in design and modelling areas using the latest machines And digital devices, triple printing and fabrication.
He added that the "Fab Lab" model is one of the most successful and effective means of developing and stimulating creativity and innovation that has proven its competence and effectiveness in empowering young, talented entrepreneurs and professionals.
He also stressed that all users, from translating their ideas into tangible reality through the crystallizing of their ideas designing and implementing its final model in preparation for the commercial manufacturing phase, will also benefit.
On his part, Engineer Dabneh emphasized that Orange focuses on the importance of public and private sector partnership, especially regarding the provision of specialized training that acquires students modern technical skills in a comprehensive, extensive and profound way.
Furthermore, he also outlined that such an approach enables them to powerfully enter into labour markets or launch their own athletic businesses, adding that the Orange message focuses on education. Digital, digital inclusion, leadership. 
"the environment is all elements we are keen on in empowering university youth. Students were invited to unleash their creative energies in a laboratory designed to build their capacities and develop their practical skills," noted the Engineer.
The establishment of this laboratory at the Faculty of Engineering is a successful model and a living example of networking between academia, business and industry sectors. 
Dr Tradat confirmed that this cooperation comes to bolster the efforts of the Faculty of Engineering to empower students and faculty ranks to take advantage of this pioneering project to empower young people in digital manufacturing, which is a core skill for students.
The faculty is boosting their skills in the Fourth Industrial Revolution tools in diverse digital manufacturing fields and making students and graduates more competitive in the labour market. 
FabLab's standing lab caters to the needs of entrepreneurs and students who have promising ideas in related manufacturing and services and modelling their ideas, enabling them to enter the business world skilfully and efficiently.
The lab offers comprehensive training courses and specialized workshops with specific skills in digital manufacturing areas and is open and accessible to all students at the University, said Eng. Moaz Rababa, director of Orange Digital Manufacturing Lab, said the lab offers comprehensive training sessions and specialized workshops in digital manufacturing areas.
Student Farah Nader spoke about how useful the training course she participated in in the laboratory that provided space and skills contributed to capacity building and practical reinforcement of the pursuits she studied at the University.
A short video showing projects completed by the student interns and have been motivating, diverse and creative projects that addressed environmental topics, sustainable care of everyday life, facilitating the movement of the blind, improving energy efficiency, and other creative lab-designed projects.