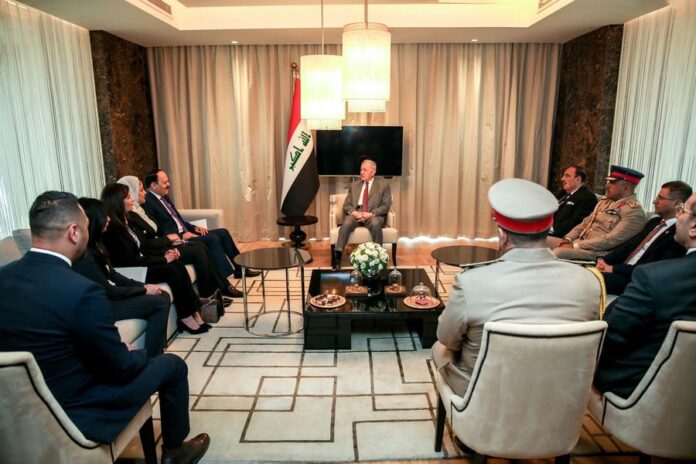 Iraq: The President of the Republic of Iraq, Dr Abdul Latif Jamal Rashid, recently received on Friday, June 2, 2023, at his residence in the Jordanian capital Amman, the business-based Iraqi Embassy in the Hashemite Kingdom of Jordan, Mr Muneef Ali Hussein, his associates and several embassy staff.
During the meeting, the Embassy's work and the Iraqi community's situation in Jordan were discussed. The President stressed the need to make efforts to provide for the needs of the community, facilitate procedures and accomplish their transactions, especially regarding granting access to Iraqis.
President Abdul Latif Jamal Rashid spoke of good relations with neighbouring countries, Iraq's support for joint work with sister and friendly countries, his contribution to Syria's return to the University of Arab States, and his active role in the rapport between Iran and Saudi Arabia.
He further emphasized the importance of developing our relations with the countries of the world in accordance with common interests, mutual respect and not interference in internal affairs.
The President of the Republic addressed the ambitious government program, which has put in its priorities the consolidation of security and stability in the country, providing services to citizens. He also discussed encouraging investment opportunities and providing facilities to investors willing to work in Iraq.
Furthermore, the reports also referred in this context to the direction of His Excellency to the Board of Advisors, Experts and the Legal Department of the Republic to work on a review and study Laws issued by all the previous regimes.
In his turn, the businessman expressed his thanks and appreciation to His Excellency the President for his valuable guidance, assuring that the Embassy has strived with its full capacity to provide everything to serve the children of the Iraqi community in Jordan.
The businessman extended his remarks referring to the presence of more than (14) thousand Iraqi students in Jordan, where the Embassy focuses on providing support to them and caring for the scientific side, please About her role in facilitating procedures for the Iraqi community and Iraqis arriving as visitors to the Kingdom of Jordan.