Dubai: As Hatta established itself as a top tourist destination in Dubai, the Hatta Police Station has increased its security and traffic programs and improved its services to ensure community happiness and satisfaction.
Colonel Mubarak Al Ketbi, Director of the Hatta Police Station, confirmed that the high season at Hatta starts in October every year and has set up security and traffic plans in cooperation with the General Department of Criminal Investigation and the General Directorate of Traffic.
"Over the last five years, the Station successfully ensured that both residents and visitors are safe and secure with tactically and sufficiently deploying patrols across the area," Col. Al Ketbi added.
"The Hatta Police Station has no record of criminal and traffic cases reported against an unknown party for the past five years. It has remarkably achieved 100% security coverage across the jurisdiction area and the same for the attendance of on-duty officers in all reports received by the Stations," he continued.
"We achieved an average response time for emergencies of one minute and seven seconds in 2021 when the target was four minutes, compared to two minutes and four seconds the year before, when seven minutes were set as a target," the Director of the Hatta Police Station stressed.
Tourism Security
Lieutenant Obaid Mohammed Al Kaabi, Head of the Tourism Security Team, explained that the Station had formed a tourism security team specialised in carrying out rescue operations at the tourist attractions in the area, especially in Hatta Wadi Hub and Hatta dam.
"The team has been qualified to handle all sorts of emergencies and accidents in mountain areas. They are equipped with advanced tools and latest technologies to assist and rescue those in need," "We also introduce tourists and visitors to Dubai Police services that are available to them 24/7″, he added.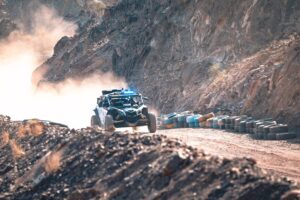 Lt. Al Kaabi pointed out that the Tourism Security Team aims to reduce the crime rate and response time to emergencies and increase community happiness and sense of safety.
"The team undertook several specialised pieces of training to be certified and qualified to fly drones, perform first aid, perform landings on mountains, secure tourist and sports events, drive on off-roads, and many other specialities," he continued.
"In 2021, the tourism security team also dedicated 6272 hours of work while successfully securing many sports, community and tourist events and attended 13 reports in the jurisdiction area," he concluded.
It is worth noting that Dubai Police has stationed a Police Smart Station at Hatta to provide public members with the latest technologies to process their security transactions and benefit from the Force's criminal and traffic services.