Oman, London: The Sultanate of Oman, a representative in the Ministry of Heritage and Tourism, has concluded its participation in the World Travel Market Fair, which was organized in the British capital London during the period from 7 to 9 November this year, with the participation of 26 tourism and hotel establishments within the Sultanate of Amman Wing, which is supervised by the minister. e, where he participated in the Omani airways exhibition and airports And the "Imran Group" and a number of small and medium institutions.
The participation of the Ministry of Heritage and Tourism in the exhibition comes as part of its efforts to increase the recognition of the Sultanate of Oman as a distinguished tourist destination at the regional and international levels, where the exhibition saw the organization of dialogue sessions, live meetings and a review of the latest developments in the global travel and tourism sector. The board of 3000 institutions and government destination companies from more than 160 countries.
The Sultanate of Oman's wing also witnessed welcoming visitors to the exhibition to learn about Oman's unique status and possibilities.
---
---
About the participation of small and medium-sized enterprises, Ahmed bin Masoud Al-Shahi, the owner of Dolphin Khasab Tourism Company: "London World Travel Market Expo is a portal for the Sultanate of Oman to meet its civilization and ancient history with other countries of the world under one dome, it has given us the opportunity to highlight the shrines of Al-Tar." Ethics and tourism in the Sultanate of Oman in general and what you enjoy Musandam Governorate is one of the heritage and tourist sites in particular.
Ensuring the participation of the owners of travel and tourism companies, Saud Al-Junidi, the general manager and owner of Infinite Tours: "Our participation in this edition is a special participation, especially after the sector has recovered from the effects of Covid-19, and we have found great interest from parties and at the head of the Ministry of Heritage and Tourism.
To support our presence here in a market fair, The World Travel London was a great opportunity for us to meet the top tourism companies from the United Kingdom and other countries of the world, introduce them to the most prominent heritage and tourist sites of the Sultanate of Oman and make partnerships with them, as indicated by Ahmed al-Balushi.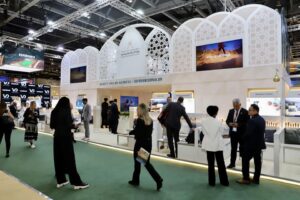 Managing the first sales and events of the Sultan Opera House about Opera House's participation in the World Travel Market: "The participation of the Sultan Opera in Muscat is one of the exciting shares that allows the meeting with various companies in the travel and tourism sector, especially after the recovery of the tourism sector In the post-pandemic stage where Dar looked after Opera Sultania is the home of participating in such exhibitions to promote Oman in general and the Sultan Opera House in particular as a leading cultural and tourist destination in the Sultanate of Oman."