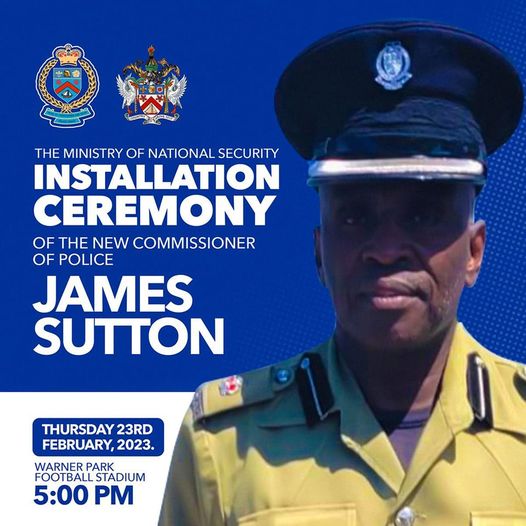 Basseterre, St Kitts and Nevis: Prime Minister Dr Terrance Drew of St Kitts and Nevis, with pride, has recently announced that the previous superintendent of police James Sutton is all set to be appointed as the new Commissioner of Police on Thursday, February 23, 2023, at 5 pm at Warner Park Football Stadium.
According to the recent updates, to share the news with the people of St Kitts and Nevis, PM Drew took to his official social media account, where he called the nation to attend the installation ceremony of James Sutton as the new Police Commissioner.
While inviting the nation to the installation event, Prime Minister noted in his Facebook caption, "Tune in to witness the Installation Ceremony of the new Commissioner of Police, James Sutton, live ZIZ on Thursday, February 23 2023." He added that the ceremony would be broadcast live through media channels on Youtube and Facebook, where the people can witness the event from their homes.
In addition, the reports have confirmed that Superintendent Sutton will replace Hilroy Brandy for the position of Commissioner of Police following the retirement of Brandy. Furthermore, James Sutton has been serving in the Royal St Kitts and Nevis Police Force for over 35 (thirty-five) years and has acquired many experiences and learned his 35 years of service till now, which will assist in performing his duties and responsibilities as the new Commissioner.
Moreover, ACP and Divisional Commander for Nevis James Sutton was also named the Divisional Commander for the RSCNPF on Nevis most recently. 
Prime Minister Dr Terrance Drew also recalled the event when Sutton received his confirmation letter on Wednesday, February 01, 2023.
James Sutton received his letter of confirmation from the former Commissioner of Police Brandy during an event held in his office. Along with ACP James Sutton, several other officers were also handed over with the letter of confirmation for their appointment at new ranks, said reports.
The Ministry of National Security of the Twin-island Federation has also formerly extended the invitation to the nation's residents following the commemoration of the installation ceremony at Warner Park Football Stadium. The ministry officials also shared the event schedule and urged the people to be seated by 4:30 pm on Thursday.