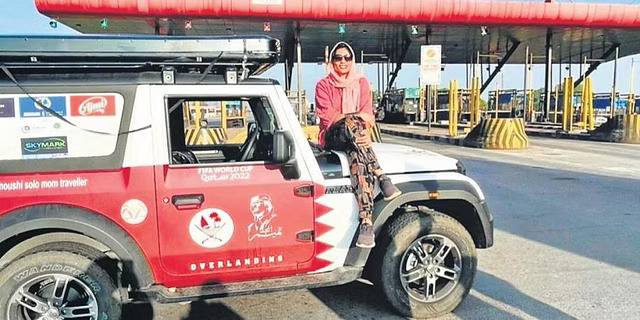 A woman named Najira Noushad, 32 years old from Kerala, India, travelled all the way to Qatar along with her five children to see her favourite footballer Lionel Messi play in the ongoing FIFA World Cup 2022.
She travelled a distance of approximately 2973km in her Mahindra Thar by road. She had to pass through several countries, such as United Arab Emirates, Kuwait, Bahrain and Saudi Arabia, to reach her destination.
As per the reports, Najira began her journey to Qatar on 15 October. As per Najira, she drove her favourite vehicle 'Mahindra Thar' which she calls an 'OLU'.
She stated that she always wanted to travel in a car to Qatar. She planned to reach Oman by ship, then she started her journey to the world cup by road. As per sources.
She left her hometown Kannur, Kerala, with a mission to watch her idol Messi play on the global stage as it might be the last World Cup appearance of the Argentinian great along with Portuguese legend Cristiano Ronaldo.
FIFA World Cup Qatar is going to its peak now, and Najira is all set to witness her first-ever world cup match on 1 December, Argentina vs Poland.
According to the reports, she has been a football fan since childhood. She was only 14 when she first started to follow football.
Fans are flying worldwide to Qatar to witness their football stars play in the world cup. On the other hand, Najira decided to take the road trip not just to watch Messi play but also to send out a loud and clear message regarding women's independence.
The football fan is also a YouTuber and vlogger. She firmly believes in independence for other women around the world. Through her journey, she wanted to spread a message of" safety for women, and they can travel anywhere in the world alone".
She wanted to encourage the women to travel independently without having second thoughts or hesitation.
The Indian football fan promotes solo travelling for women on a global level. She becomes famous and an internet sensation rapidly.
She shared her journey on the Instagram app and urged women to break the stereotypes and social norms and follow their dreams.
Her story is inspirational, and she is getting a lot of love worldwide for her bold act. She had taken a trip to the highest altitude base camp of Mount Everest from Kuttanad on her previous solo trip.