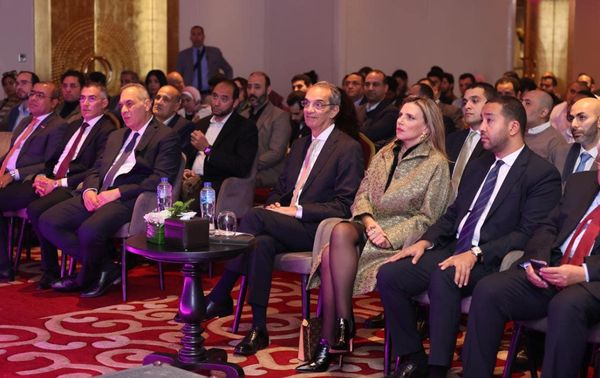 The MCIT (Ministry of Communication and Information Technology) Minister, Dr Amr Talaat, attended Amazon Web Services (AWS) Conference in Cairo today, December 10th, regarding the importance of Cloud Computing Technologies.
The event was held to discuss the benefits of the Expansion of Cloud Computing Services, which is expected to become a pathbreaking opportunity for digital transformation. 
As per the reports, the MCIT Minister expressed his sheer interest in using and developing the IT (Information Technology) infrastructure all over the nation, which would help expand Cloud Computing Services.
The MCIT ministry further clarified that ''The Digital platform now includes more than 165 digital government services, referring To double the average fixed internet speed in Egypt to become the first in the African continent with an average speed of nearly 45 MB / s in October 2022 compared to the 40th continent-wide centres in January 2019 with an average speed that was estimated to be 6.51 MB / s, according to Okla international, Lafta to Egypt is advancing in the recently released World Bank Digital Government Maturity Index 2022.''
Furthermore, ''It was ranked among the leading group of countries in digital government with a rank (A), the highest category in the index''. MCIT Minister added.
The MCIT Minister, Talat conveyed in his speech during the Amazon Web Services (AWS) Conference focused on Cloud Computing Technologies. 
The Deputy Minister of Communication and Information Technology for Administrative Development, Engineer Khaled Al Atta, and Assistant Minister of Communications and Information Technology for International Information Infrastructure, Engineer Mohamed Nasruddin, attended the event. 
The officials were also joined by their delegations and leaders from the Ministry of Communication and IT and Amazon Web Services (AWS).
Moreover, Dr Amr Talaat praised Amazon Web Services in Egypt and expressed immense happiness towards the expansion, which dedicates the ability and attraction of the communication and IT sector to giant global companies and leaders in these fields.
The event was followed by the announcement in which Amazon Web Services (AWS) said they have set up their outposts services in Egypt to serve all entities, including public, private and government sectors.
In the end, the General Manager of Amazon Web Services in Egypt and North Africa, Dr Azza Al-Shenawi, conveyed that the availability of AWS outposts in Egypt curses expansion efforts which look forward to meeting the wishes of their customers to provide this balka-managed service Bored of AWS in Egypt.
Manager Shenawi said, ''The AWS Outpost services are ideal for business applications that require quick access to services and data processing locally in multiple sectors''.