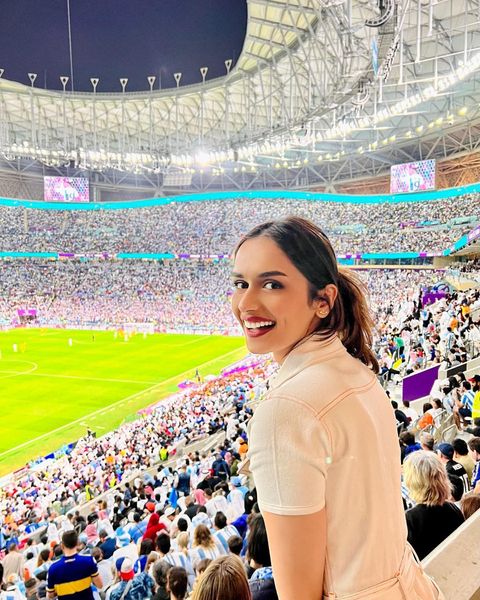 FIFA World Cup, Qatar 2022: Indian Actress, a Model and the winner of Miss World Pageant 2017, Manushi Chhillar, visited Qatar to witness the quarter-final fixture between Argentina and Netherlands yesterday on December 9th.
Manushi expressed her excitement towards the amazing competition she witnessed last night between the two football giants in which Argentina managed to grasp the win over the Netherlands in the Penalty shootouts with the final score of 4-3 and booked their place in the Semi-Finals against Croatia.
While expressing her excitement and joy, Manushi addressed the event as '' What a night and what a match!!'' in her official Instagram account's handle caption. Furthermore, Manushi shared her experience and uploaded several photographs of her from last night's encounter, and she seemed to be enjoying the nail-biter contest on the world stage.
Manushi Chhillar is a well-known face in India and around the globe, as she has represented India on the global stage several times. 
She won Miss World 2017, Pageant and became the sixth woman to represent India and was crowned with the title. Manushi has also represented her state 'Haryana' in Miss India 2017, Pageant, which she also won.
Manushi debuted her acting career in Bollywood through the role of 'Sanyogita' in the historical drama movie 'Samrat Prithviraj' in 2022. Moreover, along with her acting skills, she also acquired dancing skills in the 'Kuchipudi' traditional dance form and took her training from Raja and Reddy.
Besides her all other achievements and skills in her career, she was also a brilliant student in her education,
She had cleared the ''All India Pre-Medical Test'' NEET on her first attempt and pursued an MBBS medical degree at the Bhagat Phool Singh Medical College in Sonipat.  
Moreover, FIFA World Cup 2022 is in its quarter-final stage, and fans and people around the globe are expressing their love and excitement for the game in their ways. 
Football fans worldwide have been travelling to Qatar to witness their favourite stars play in front of them and cheer them on the world cup stage.
FIFA World Cup 2022 will be hosting its final on December 18th, and every contest between the top elite football teams of the world is a pure treat to the eyes of the spectators, and the fans are supporting their teams and players with love and praying for their World Cup win.