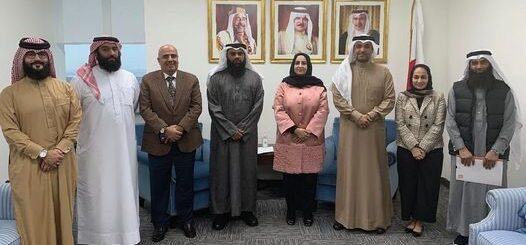 Bahrain: The Minister of Health affirms the importance of strengthening the active partnership between the executive and legislative authorities to continue achieving goals and achievements in the health sector.
Dr Jaleela, daughter of Al-Sayed Jawad Hassan, the Minister of Health, confirmed the ongoing development experienced by the health system, which aims, first of all, to enhance the quality and efficiency of health services provided to citizens. 
Minister Jaleela Sayed also emphasized the importance of promoting active partnership, cooperation and joint coordination between the two authorities. For executive and legislative to continue consolidating the progress and sustainability of the health sector.
This came at the reception of His Excellency the Minister of Health for several members of the parliament and members of my council of the southern governorate,
His Excellency the MP Badr Saleh Al-Tamimi, and His Excellency the Representative Muhammad Musa Al-Balushi, Mr Khaled Saleh Shagra, a member of my council of the southern governorate, and Mr Ali Abdul Hamid Al-Shei Kh, my southern councillor governorate.
During the meeting, the ways and areas of development of health services offered in the Kingdom of Bahrain in general, and the Southern Governorate in particular, were reviewed to meet the proposed aspirations based on the goals of the comprehensive development path. 
Furthermore, the discussions of the next development stages with the implementation of Health insurance will contribute to better delivery of health services Integrated with optimal utilization of resources with keenness to maintain health service efficiency and deliver high quality and competitive quality.
On their behalf, members of the parliament and the Council of the Southern Governorate express their gratitude and appreciation to the Minister of Health and the fruitful efforts and endeavours of the Ministry of Health to develop and enhance health services. 
In the end, the health ministry took it to appreciate the existing cooperation between the two authorities, which resulted in health achievements in the health sector in the nation for the residents.