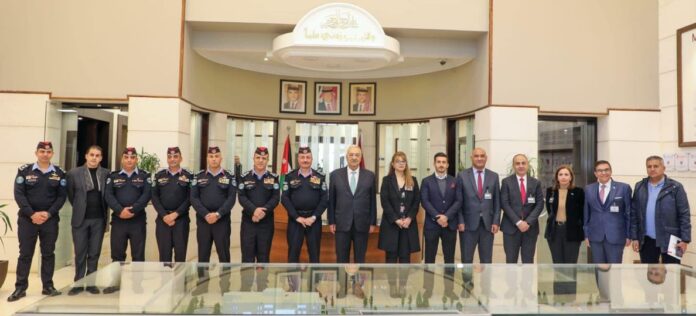 Jordan: The Public Security Department of Jordan has recently shared an update where a Memorandum of Understanding was signed between the Middle east University and the Directorate of Public Security yesterday, January 10th 2023.
As per the recent information gathered from the agreement signing meeting, the signed memorandum will reflect the enhanced relationships between the public security department and middle east University in several fields and sectors to get better and positive results altogether.
Furthermore, the Directorate of Public Security and the Middle East University signed a Memorandum of Understanding for the better continuation of joint cooperation between the two parties in the scientific, cultural, academic and training spheres.  
Moreover, the memorandum of Understanding was signed between the two parties in the presence of the Assistant Director of Public Security for Operations and Training, Dean Anwar Al-Tarouna, and the Chairman of the Board of Trustees of Al-Ain University. Dr Yacoub Nasruddin and the President of the University, Dr Salam Al-Mahadeen.
In addition, the Memorandum of Understanding between public security and the middle east University will aim to implement a joint higher diploma programme in the digital media field, 
along with organizing and accurate implementation of mutual field visits in cognitive domains, conducting interactive activities in the area of leadership skills, and cooperation in statistical analysis services.
Over and above all, the agreement will also focus on strengthening the joint cooperation and association between both parties for a common interest, exchange of experiences and knowledge, and formulation of academic, scientific and training programs.  
The officials from both ends stated that documenting the coordinated relationship between the sides supports the program of promising future security leaders by providing academic, research and logistic support and the artist.
The management authorities further concluded that the memorandum would also provide students of the Faculty of Law at the University the opportunity to make field visits to the correction, 
qualification, and criminal research departments and different departments; to see the practical reality of these departments and link it to theoretical study.