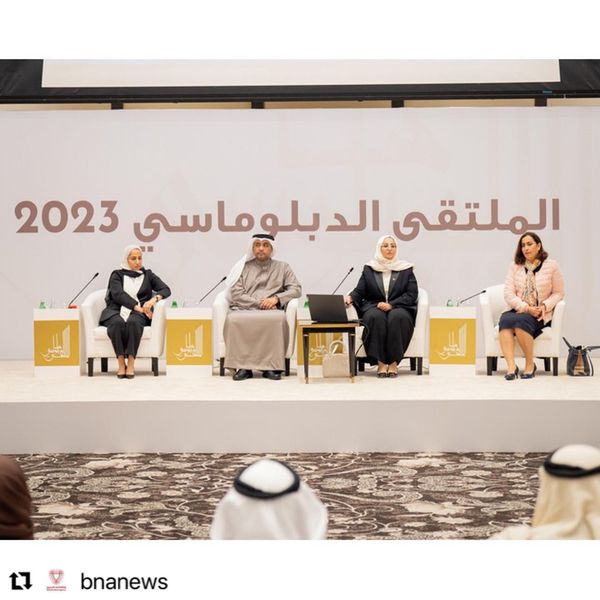 Bahrain: The Minister of Health of the kingdom of Bahrain, Dr Jaleela bint Sayed Jawad Hassan recently participated in a meeting within the activities of the Diplomatic Forum 2023 on January 18th 2023, where she also reviewed the national health plan from 2016 to 2025.
As per the sources, the meeting was held in Manama, Bahrain, under the presence of health minister Jaleela Jawad Hassan along with the participation of Dr Walid Al-Mani, Deputy of the Ministry of Health, and Dr Maryam Al-Jalahma, Executive President of the National Authority for Occupations and Health Services, and Dr Lawwa Schwiter, the Acting Chief Executive of Primary Health Care Centres.
During the meeting, several other top government officials were present, including the Heads of Diplomatic and Consular Missions Abroad, Senior Officials of the Foreign Ministry, Heads of Sector and Department Managers.
Furthermore, Bahraini Minister of Health, Dr Jaleela, daughter of Sayed Jawad Hassan, has made a presentation regarding the functions of the health system of the Kingdom of Bahrain along with its plans and objectives.
During the presentation, Health Minister addressed the current position of the Ministry and health care infrastructure along with the National Health Plan for the years 2016-2025. In addition, she noted that the plan focuses on seven strategic axes, which read as follows,
– Health Service Delivery Methodology
– Funding Health Services
– Capacity Building, System of Governance
– Quality and Safety of Services Health
– Health Information and Software and National Health Insurance System.
Moreover, the minister has also stated that providing a highly competitive and facilitated health care system is the main goal and focus that the health ministry prioritized for its residents and people. ''The Ministry of Health has a vision of providing sustainable and enhanced health care system in the country which would assist the people in their needs'' said Dr Jaleela Jawad Hassan.
Additionally, Dr Jaleela stated that there are essentials that the Ministry of Health is considering, such as easy and fast access to health services Living the basics, developing public health policies and initiatives, raising community awareness, prevention, and uplifting Performed by health institutions and their national personnel.
At the end of the forum, the Ambassadors expressed their gratitude to the Ministry of Health and all the medical teams for their valuable and great efforts, especially during the global spread of the Coronavirus (Covid 19) pandemic and response to it.