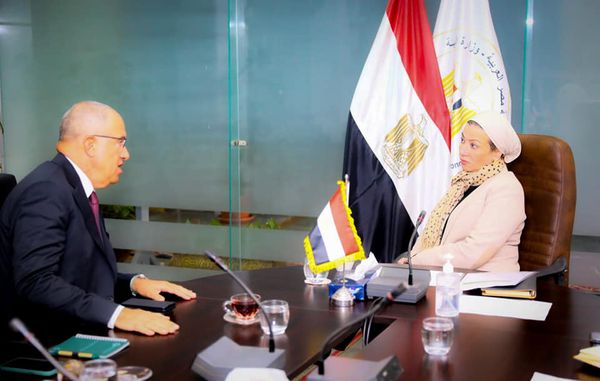 Egypt: The Minister of Environment, Yasmin Fouad, recently attended a meeting with Engineer Mohamed Al-Swedi, the President of the Egyptian Federation of Industries, where she focused on implementing the instructions of the President of the Republic to support investment.
During the meeting, Minister Yasmin Fouad stated that the Environment Ministry is investigating ways to achieve environmentally friendly economic development with the Egyptian Federation of Industries.
She further confirmed that establishing the Environmental and Climate Investment Unit in the Ministry of Environment to support the Environmental Investment System is a priority now under consideration by the authorities.
In addition, Yasmin Fouad added that the ministry is also focusing on completing the preparation of agricultural waste and biomaterial-based economic strategies to support investment in environmental projects. 
"The Prime Minister's tasks are to support the environmental approvals system and work on accelerating its acquisition," said Fouad.
Furthermore, it was reported that the completion of issuing 177 environmental approvals for industrial projects within five months had been recorded so far. Moreover, the President of the Republic has instructed to support industrial development and find ways to support private sector investments.
The reports have also conveyed that establishing industrial projects have immense importance in accordance with the requirements Environment and lowering obstacles to achieving environmentally friendly economic development in the presence of relevant ministry leaders at the Center Educational Cultural House Cairo.
Dr Yasmin Fouad emphasized that at present, there is a great interest and priority of His Excellency the President and the State to support environmental sector investments in environmental sectors as a promising sector that fulfils interests at all economic, 
social and ecological levels provide green employment opportunities for youth and support national development plans based on environmental protection.
In the end, the President of the Union of Industries, Mohammed Al-Swedi, stressed the importance of supporting the private sector and overcoming all difficulties that may hinder the expansion or establishment of industrial projects, 
especially in relation to the provision of environmental approvals and the provision of financing packages for industries and industrial areas.