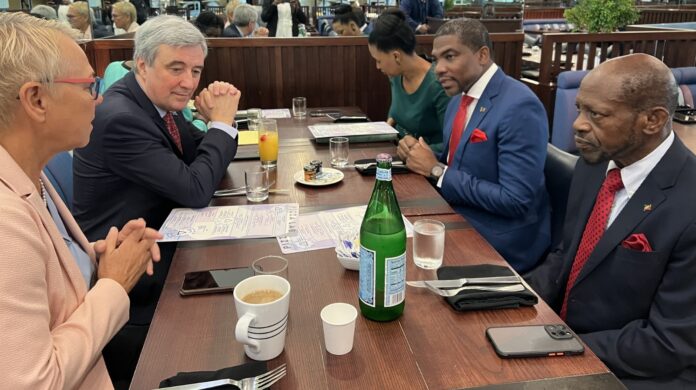 Basseterre, St Kitts and Nevis: Prime Minister of St Kitts and Nevis, Dr Terrance Drew, participated in a bilateral meeting along with the delegation of the E.U. (European Union) on Friday, 17th February 2023.
According to the reports, the meeting under the bilateral relations with the European Union was held prior to the beginning of the second day of the Plenary Session during the commemoration of the Forty-Fourth (44th) regular conference of the Heads of CARICOM (The Caribbean Community and Common Market) started from 15th to 18th February 2023.
In addition, Prime Minister of the Twin-island Federation, Terrance Drew, further conveyed that, during the plenary session, the delegation of the European Union was headed by the (EEAS) European External Action Service Deputy Managing Director, Mr Javier Nino Perez.
In his remarks, he added that Deputy MD Nino Perez was accompanied by the Ambassador of the European Union to Barbados and the Eastern Caribbean, H.E. Malgorzata Wasilewska. According to the updates, the meeting aims to promote and encourage the hosting of the European Union Community of Caribbean States and Latin American regions (EU-CELAC) to be held in Brussels, scheduled to commence from 17to to 18th July 2023, as per the European Union perspective.
Moreover, Prime Minister of St Kitts and Nevis, Terrance Drew, confirmed that the meeting would be held in Brussels after the hiatus of straight eight (8) years. He noted that the administration of the Twin-island Federation grabbed the opportunity to engage in partnerships in the build-out of its projects of renewable energy with the aspiration to become a green economy nation.
Also present at the bilateral meeting were the Minister of Foreign Affairs, the Rt. Hon. Dr Denzil Douglas; Permanent Secretary in the Prime Minister's Office, Ms Naeemah Hazelle; and Permanent Secretary in the Ministry of Foreign Affairs, Ms Kaye Bass.