Egyptian Ministry of Environment under Minister Yasmin Fouad has recently participated in the "Excellence in Pharmacy Conference" at Cairo University, organized by the Faculty of Pharmacy. The conference was held as part of the Ministry's quest to raise environmental awareness and achieve environmental sustainability.
According to the recent updates, the Ministry of Environment issued a statement that noted "Participation in judging the student competition in the employment forum for innovative ideas supporting sustainability in the pharmaceutical industry."
Under the direction of Dr Yasmin Fouad, the Minister of Environment, to work on spreading environmental awareness to achieve the comprehensive concept of environmental sustainability, the Central Administration for Media and Environmental Awareness participated in the events of the Conference of Excellence in Pharmacy held entitled "Egypt Vision for Healthcare 2030".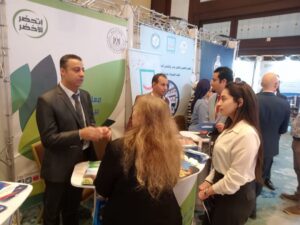 "The conference was held by the Faculty of Pharmacy under the auspices of Dr Ayman Ashour, Minister of Education Scientific Research, Dr Khaled Abdul Ghaffar, Minister of Health and Population, Dr Mohamed Othman Al-Khasht, President of Cairo University, Egyptian Medical Board.
Furthermore, it was also said that the conference also featured the participation of representatives from each the English University of Hertfordshire in the administrative capital, Lublin Medical University in Poland, the University of Porto Portugal, the Board of Excellence in Healthcare (NICE), International Board of Trust for Pharmaceutical Education (ACPE), organization World Health (WHO), and the US Constitution of Medicines (USP), during the period from 2020 to 20 May.
It was reported that "The Ministry of the Environment has implemented a specialized wing that presents environmental projects aimed at achieving sustainability in all spheres in line with the vision of Egypt."  
Moreover, a number of manuals and brochures were distributed for the projects (Solid Waste Management _ Eco Egypt Project _ Hove Bird Project), and a set of cloth bags were distributed within the initiative National Plastic Bag Reduction aims to raise the culture of environmental awareness of all walks of society.
The Ministry also participated in the judging of the student competition at the recruitment forum on innovative ideas supporting sustainability in the pharmaceutical industry through the environmental management sector of the Ministry.
On the other hand, the Ministry of the Environment held an exhibition to showcase the environmental projects in the Ministry, as part of the National Initiative for Smart Green Projects at the Olympic Centre in Maadi, under the patronage of Major General Khaled Abdul-Al, Governor of Cairo, and in cooperation with the Presidency of Maadi District and the National Youth Council.