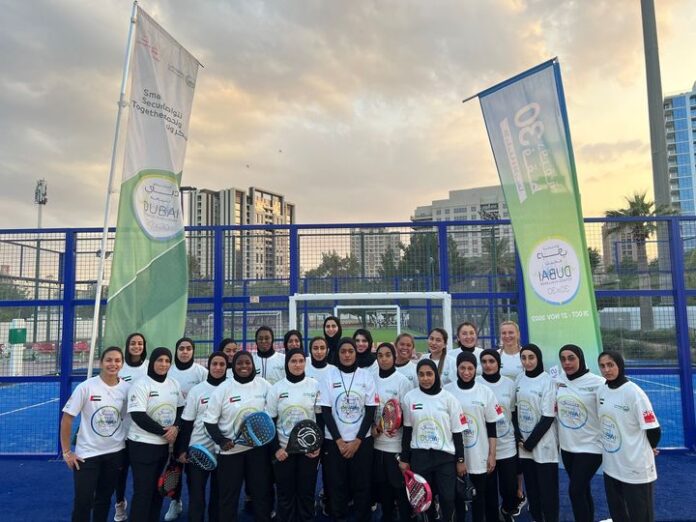 United Arab Emirates: Dubai police organized the Women's Paddle Championship at the Dubai police officers club in Al Jaddaf on 25 November. 
The sporting event was organized with an ongoing schedule of competitions of Dubai fitness challenge 30×30 for 2022, started from 29 October to 27 November.  
The chairman of Dubai Police Sports activities, Dr Expert Major Saeed Al Marri, said the championships are organized among 47 sports. The purpose of organizing sporting events in the nation is to encourage the citizens to exercise 30 minutes daily for 30 days.  
The Dubai sports challenge has a tight schedule and packed calendar to be involved in different sports, such as, 
Football 

Water sports

Padel tennis

Yoga

Cricket, etc
His highness Sheikh Hamdan bin Mohammed bin Rashid Al Maktoum, the crown prince and chairman of the executive council, introduced the event in 2017. 
The sporting events are being organized for people of every age and fitness, which offers the citizens a way to find some time for their fitness regime during the Dubai sports fitness challenge 2022. 
The fitness challenge is organized in the format of 30×30, which means the sporting events will be carried out for 30 days. The primary motive of the event is to spread awareness about physical fitness among the people of the United Arab Emirates and encourage them to adopt a fitness lifestyle.
Several days back, Dubai Police Resilience Centre joined the Dubai 30×30 challenge, where they organized a walk sports event at Mushrif Park on behalf of the Dubai force's participation in the fitness challenge and several other activities.
Brigadier Expert Ahmed Bourguiba, Director of the Resilience Centre, said at the event that the initiative offers and provides a way of adopting a healthy lifestyle in their lives.
By adopting the fitness challenge offered by the Dubai government and authorities, people can fix their routines and make some time for their physical well-being. The event is being carried out with a slogan of ''IT ONLY TAKES 30''.