Ivorian star Sebastian Haller, who recently joined Borussia Dortmund, has made a shocking appearance due to the player's chemotherapy treatment after suffering testicular cancer about a month ago.
And the "GTV SPORTS+" platform, through its account on "Twitter", published pictures in which Haller appears with a shaven head and slender body, due to the impact of the hospital chemical program he is undergoing to recover from the malignant disease.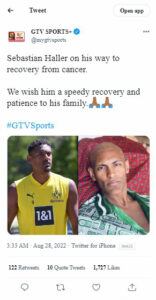 The images that circulated to Haller on social media platforms during the past hours left a wave of sympathy for the Ivorian player, as everyone wished him to strengthen his resolve to overcome this health crisis, which caused him to stay away from the atmosphere of football competitions until further notice.
And Borussia Dortmund announced, through an official statement, in the past weeks, that Haller had undergone chemotherapy, which means he was absent from the stadiums for an indefinite period.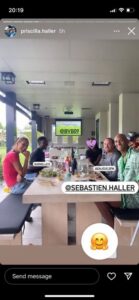 It is noteworthy that Haller joined the ranks of Borussia Dortmund, last July, from Ajax Amsterdam, in a deal worth 31 million euros.