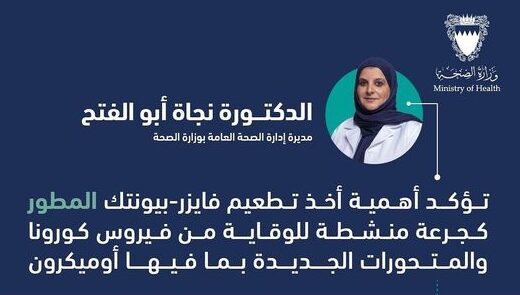 Bahrain: Director of Public Health Administration of the kingdom of Bahrain, Dr Nagat Abu Al-Fath, has promoted the importance of the Pfizer-BioNTech booster shot, which the Ministry of Health Bahrain recently introduced in primary health centres. 
Abu Al Fateh confirms that the advanced Pfizer BioNTech vaccination can fight against the coronavCoronaviruss new mutants, including Omicron.
She encourages the residents of the kingdom of Bahrain to get vaccinated with the booster shot to be protected from the deadly virus and its variants.  
The director of public health stated that the Pfizer-BioNTech vaccination is an energizing dose, increasing the chances of not getting infected by the Covid-19 Virus. 
Furthermore, she also pointed out that CoronavCoronavirususe severe complications in some cases and categories, which can cause people's lives. 
Al Fateh stated that the testing of the booster shot developed by the Ministry of health is a concern, which referred to the importance and success rates of the Pfizer-BioNTech vaccine to fight the virus. 
The National Medical Taskforce has ensured Pfizer-BiotNTech vaccine developers' availability for all health centres citizens and residents.
Moreover, the officials from the Ministry of Health, along with the director of public health, conveyed that they aim to provide the booster shot to the people for the highest level of protection against any threat related to Coronavirus dangerous mutants. 
In addition, they are calling on all eligible people and those who are willing to take the Pfizer booster shot to be able to protect themselves and those around them, 
Ministry of Health, Bahrain, shed light, especially on those eligible from the age 12 and above to take the third dose of antivirus vaccination as soon as possible.
Eligible people and children also can skip pre-registration for vaccination. They need to reach out to the health centres directly and vaccinate themselves. The update was shared on the official Facebook handle of the Ministry of Health, Bahrain, several days back.
The Ministry of Health has priorly announced the availability of the developed booster shot of Pfizer-BiNTech in the primary health sectors of the Kingdom of Bahrain. The government has been working towards spreading awareness and protection measures from Coronavirus in various campaigns and operations.