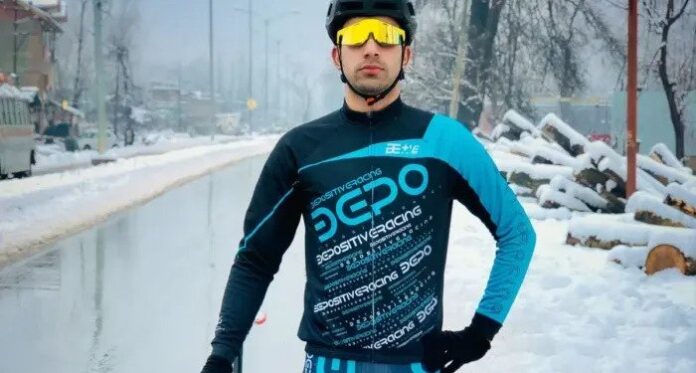 Jammu and Kashmir, India: Bilal Ahmad Dar, the only international cyclist from India, has been carrying the Olympic dream of winning the gold medal for his country on his shoulders. 
He will be preparing for the ultimate competition and representing India at the Olympics by competing across the globe in different sports events and international competitions.
As per the reports, Bilal Ahmad Dar came from a small village named Kawoosa in the Budgam district and came into the spotlight during a talent hunt competition held in Srinagar. He has been showcasing his skills and abilities with sheer dedication since then and went on to represent India globally. 
He bagged a silver medal at the Asian Junior Championship in 2018 by showcasing his tenacity and hard work, along with two silver medals in the 2018 Asia Cup.
In his remarks, Bilal Ahmad Dar said that he feels blessed and immensely happy by the support and faith shown by the Punit Sir and his team in his abilities. He mentioned that he is carrying the dream of representing his nation at the Olympics, which he is working hard and aims to achieve it. 
He added that the dream of the Olympics is still untouched, but he is putting every effort towards making it a reality. "I will leave no stone unturned in my hard work," he added.
According to the updates, young sportsmen and athletes have been getting significant support from the Punit Balan group. Bilal Ahmad Dar has received help and support for his aspirations from the group since 2018 in order to make their dreams come true.
Furthermore, the Chairman and Managing Director of the Punit Balan group has stated that the valley of Jammu and Kashmir has been enriched with enormous talent and potential, which has become his responsibility to recognize and provide a platform to excel. 
He added that he is committed to providing the necessary support to the sportsmen and athletes of the region to make their dreams a reality by which they could make the country proud and bring medals home.
"We aim to launch a number of initiatives to bring the talented youth and athletes of Jammu and Kashmir towards the mainstream sports," said the Chairman of Punit Balan Group in cooperation with the Indrani Balan Foundation.
In the end, it was stated that there are nearly 5000 young athletes including (Taekwondo) Afreen Hader, (Cycling) Muhammad Saleem, (Cricket) Umar Shar (Kho Kho) Umeer Syed, who is currently getting support and aid from the Punit Balan Group.