Jordan: Queen Rania Children's College recently organized the celebrations on the occasion of Independence Day yesterday, May 21, 2023. The Vice President of Hashemite University, Dr Wasfi Al Rawabda, has sponsored the celebration events at the Hashemite University Kindergarten and Nursery.
As per the information, the celebrations were conducted in the presence of the Dean of the Queen Rania Children College, Dr Nagati Bani Younis, and a number of members of the two academic, administrative and children's bodies, and with the participation of a number of schools in Zarqa Governorate.
On his part, Dr Wasfi Al Rawabda, the president of Hashemite University, pointed out that the celebration of these occasions comes to establish the values of loyalty and belongingness of this precious country and King Abdullah II. He confirmed that our children's celebration of National Days is a celebration that instils in their souls love of the country and belonging to it.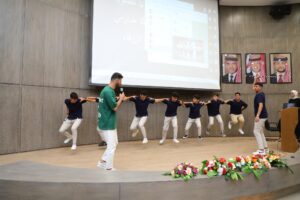 Furthermore, Dr Rawabda witnessed the start of the ceremony at the Vocational Qualification Fair, and the National Heritage Fair contained some heritage and handicrafts that depicted this national occasion.
In addition to this, he was also presented with a number of educational tools to develop the skills of children and children with special needs; the Majestic also praised the college's efforts for its improvement at the level of educational services provided to college students and kindergarten children.
In his regards, Dr Bani Younis stated that Queen Rania College for Childhood has always been a race in organizing such activities and events that are carried out by kindergarten and nursery children in celebration of those national occasions to instil patriotism in their souls.
"The Deputy Dean of the College, Professor Dr Hisham Al-Ajrama, thanked and appreciated all those behind the success of this event, especially schools and kindergartens in Zarqa Governorate, for presenting national singing groups and folk dances that appreciated the attendance," said the sources.
The assistant Dean, Dr Enas Alemat, also extended his remarks and noted that during the ceremony conducted by kindergarten director Jawahar Al-Anzi and kindergarten director Sorraa Lareba said that "On your independence day, my homeland, we renew our promise to you with loyalty, belongingness and loyalty, to give you the precious and noble, and on your independence day, O my homeland, we renewed in us your love and adoration of every atom of your precious soil."
It is noteworthy that the celebration included many art and heritage sections, competitions presented by children and purposeful educational sections.