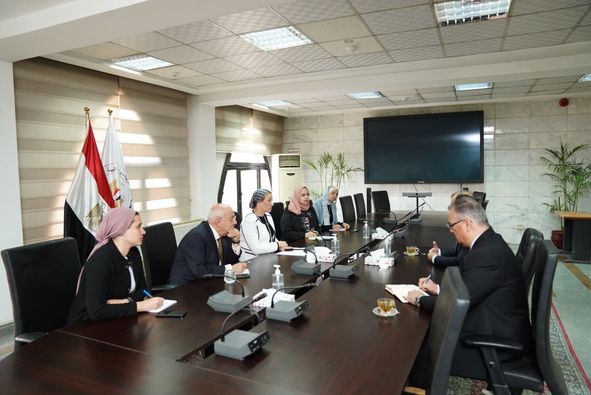 The Egyptian Minister of Environment, Dr Yasmin Fouad, hosts Zarabuddin Qasmi, the ambassador of Tajikistan in Cairo today December 6th. The meeting is expected to support the joint environmental operations of the two countries.
As per the reports, Dr Yasmin Fouad said that the environmental agreement between both countries is focused on activating the Memorandum of Understanding between the two countries.
The ambassador of Tajikistan invites the Minister of Environment of Israel to visit his country. Furthermore, the Tajikistan ambassador hails cop27 climate conference and the achievements of Egypt by hosting the meeting.
The meeting was accompanied by the delegation of both the Minister of the Environment and the ambassador of Tajikistan, where they discussed different research ways to support cooperation between the two countries in the field of environmental work and activated the Memorandum of Understanding signed between the two countries in 2019.
Moreover, Dr Yasmin Fouad expressed her immense gratitude and appreciation towards the cooperation between both nations, which will enhance the environmental state by working and introducing new techniques in every area.
In Addition, the Minister of Environment stated that ''the preparation period for the cop27 climate conference refers to the signing of an understanding memorandum between Egypt and Tajikistan in 2019.
As per the reports, Dr Yasmin said that ''the memorandum is focused on activating bilateral cooperation between countries Debt on a number of topics of common interest including climate change Adaptation, mitigation, biodiversity and protection of ecosystems as well as topics of water utilization and its uses in agriculture drive the activation of this important executive programme''.
The Ambassador from Tajikistan further expressed his deep appreciation and thanked the Minister of Environment of Egypt, addressing her efforts to protect the environment globally.
He highly praised the climate conference cop27 and the achievements that it obtained at a global level.
The joint association between the two countries is working within the framework in which the Water and Climate Alliance are made to support innovative solutions to protect Water.
In the end, authorities stated that ''the purpose of supporting the climate agenda and addressing the impacts of climate change by demanding participation in cop28 preparatory meetings and hosting his country for one of its preparatory meetings''.