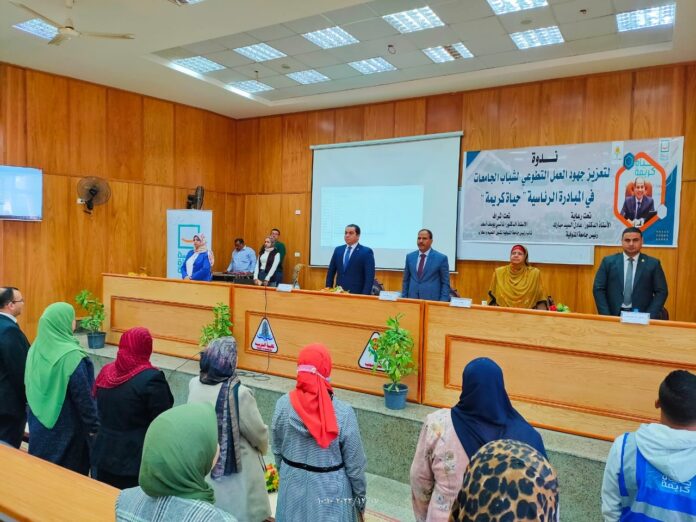 The Faculty of Education at the University of Menoufia, along with Hayat Karimah Foundation, has incorporated and organized an education seminar to promote the efforts coming from the volunteering youth of the university in the ongoing Presidential Initiative, ''Hayat Karima''.
During the event, the President of the University was also present, Dr Adel Mubarak and Dr Nancy Asaad, who the Vice President of the University accompanied for the issues of community services and environmental development.
Furthermore, several other officials were present at the event, including, Advisor to the President of the University for Community Service Affairs, Dr Abdul Rahman Al-Bajouri and Colonel Ahmed Salama, along with the General Manager of Hayat Karima Office in Menoufia, Dr Aladdin Hassan, General Coordinator of Karimah Life in Menoufiya, and Dr Fatiha Watermelon, College Agent for things and college students.
Moreover, the officials added that the volunteering work holds significant importance among the participating students as well, as the work also positively impacts them, their families, and society.
The presidential initiative ''Hayat Kareem'' is making a positive change in the development of different fields and regions under the leadership of President Abdel Fattah El-Sisi.
All the efforts made by the students voluntarily uplift the country's safety substantially.
The Advisor to the President of the University for Community Service Affairs, Dr Abdul Rahman Al-Bajouri, stated on his part that we need to do our best to provide every necessary health environment for the members of the society, which would spread the volunteering culture for enhancing and upliftment of the Egyptian society.
The Ministry of Education and Technical Education, along with their Delegation and the Japanese Delegation in charge of the Japanese schools,
received and visited Damlwa Elementary School in Qwaisna, Abdul Aziz Hassan Wehab Primary School in Kafr Abdou, Arab Al-Raml Modern School for Primary Education, and three schools affiliated to Ed The power of our education pillars.