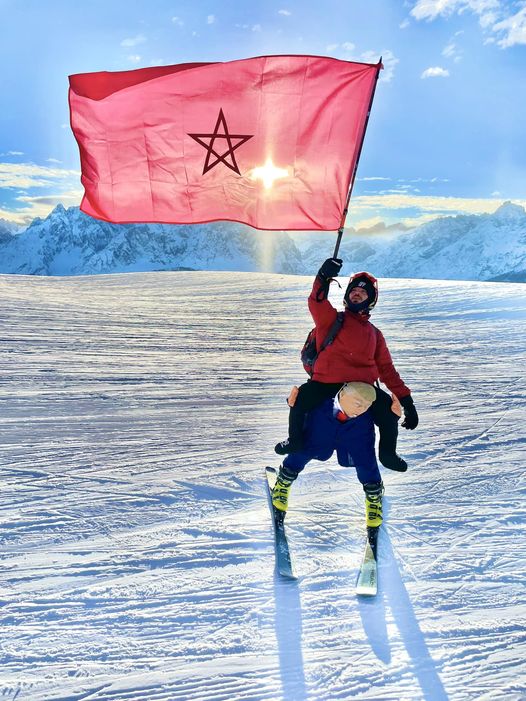 A mountaineer and video creator from Jordan, Qaseem Al Hato, shared a post on his official social media account where he took his time and appreciated the Moroccan Team for its unbelievable run throughout the FIFA World Cup, Qatar, 2022.   
In his official social media post, Qaseem Al Hato expressed a sense of immense gratitude towards the incredible experience that the Moroccan Team has given to all of the fans around the world and gave them a reason to cheer for their football team.
Qaseem Hato thanked all the players and management of the Moroccan team from the bottom of his heart and said, "We thank the Moroccan team for all the joy they gave us, and they brought us the dream back, and there is nothing impossible, we love you."  
Furthermore, Qaseem also posted a photograph of him holding the Moroccan flag in his hand and expressing respect in the caption of his Facebook Post. The picture was taken when the mountaineer was skiing on the ice mountains.
As per the recent updates from the FIFA World Cup, 2022, the Moroccan team's world cup run this year was a treat to watch, which ended in the semi-finals, where they lost to France by a 2-0 score line at the end.
Besides the loss, fans and spectators worldwide have appreciated and praised the effort the Moroccan team showed and the unbelievable feat they have managed to achieve.
The Moroccan team managed to defeat Spain in the round of sixteen stage with a margin of 3-0 after the full time ended with the score of 0-0, followed by their win over Belgium in the group stage by 2-0, and they topped the group stage.  
Moreover, in the quarter-finals of the World Cup 2022, Morocco made a complete upset against the football giant Portugal when they defeated them by just one goal margin, 1-0, after a close and exciting match.
In the semi-finals, Morocco faced France and gave them a very tough fight with all their blood and sweat till the end and ended on the losing side with the end score line of 2-0. During the semi-final, Morocco had plenty of close chances to score a goal, which unfortunately got missed and ended the streak for Morocco.